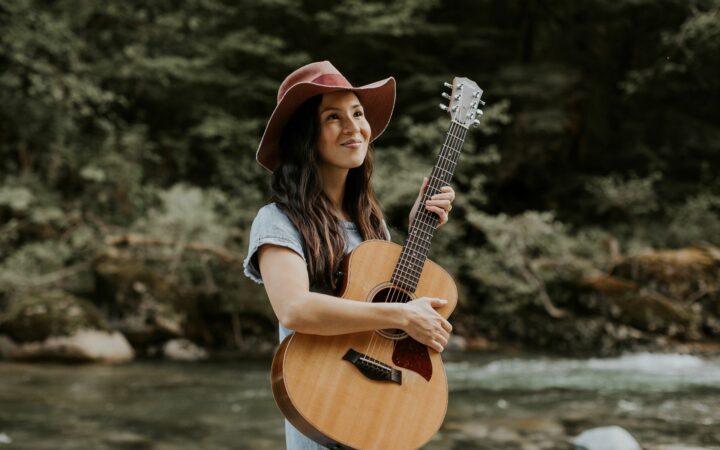 Take a musical journey with Ginalina and special guests!
Immerse yourselves in a wonderful interactive and multilingual concert themed on the value of every child, and the small but mighty roles we play in nature stewardship, community building, and everyday kindness. Sing, dance, and be part of the Western and Eastern musical wonders of Accordion, Guitar, Ukulele, Percussion, Erhu, and Zither, alongside Ginalina's Friends and Guests from the Vancouver Chinese Music Ensemble.
Ginalina is a bright star on the Canadian Family Folk scene and three-time JUNO-nominated Artist with music videos on CBC and BC Kids' Knowledge Network. This concert includes songs from her newest album, and will be in English, French, and Mandarin with printable activity booklets. Watch the video below.
Plongez dans un concert interactif et multilingue sur le thème de la valeur de chaque enfant et des rôles modestes mais puissants que nous jouons dans la protection de la nature, le développement communautaire et la gentillesse au quotidien. Chantez et dansez avec des merveilles de l'est et de l'ouest — l'accordéon, la guitare, du ukulélé, des percussions, de l'erhu et de la cithare, aux côtés des amis de Ginalina et des invités de Vancouver Chinese Music Ensemble.
Ginalina est une étoile brillante de la scène folk-familiale canadienne et une artiste trois fois nominée aux prix JUNO avec des vidéos sur CBC et BC Kids' Knowledge Network. Le concert inclue des chansons de se nouvelle album et sera en anglais, français et mandarin avec des livrets d'activités imprimables.
Ways to Watch
IN PERSON
Watch a live performance at the venue.
TICKET INFORMATION
FOR SCHOOLS:
Festival 1 Show Pass: $12+GST/ticket
Festival 2 Show Pass: $22+GST/ticket
FOR THE PUBLIC:
1 Show Day Pass: $12.50 per child/senior; $22.00 per adult +S/C and GST
Festival 4‑Pack: (4 tickets to 1 show) $62.00 +S/C and GST
Pyjama Night: All tickets $12.50 +S/C and GST
Accessibility Information
Accessibility:
Relaxed Performance

Wheel Chair Accessible
More Info: Our Relaxed Performance is a specially designed and adapted performance that welcomes audience members who benefit from a more relaxed performance experience. This Visual Story about the show helps prepare you for coming to the show or to decide if this show is right for you. This Visual Story about the venue helps people prepare for a new experience or to decide if this space works for them.
Accessibility Advisory:
- This show may have loud/sounds or noises or repetitive noises.
- This show has background music.
- Children will be invited to participate in sensory interactions.
- Children will be invited on stage. If selected, they may bring guardian to join them. These children may be asked to participate (e.g., paint, draw, read, construct things, sing, in groups on stage, or select items on stage).
- At one point in the show, the artist will enter the audience.
- The audience will be asked to walk/dance/move around during the show.
Show times & Tickets
Show highlights
Rave Reviews
School TICKETS ARE ON SALE Now! RESERVE YOUR STUDENTS OR GROUP BY PURCHASING ONLINE