Volunteer
Volunteers, we need you!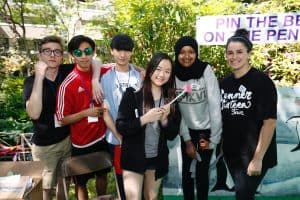 Volunteers are essential to the Vancouver International Children's Festival. Our Festival can only run smoothly with the generous help of a 1,000 devoted volunteers. Each year, volunteers, like you, contribute to the success of the Festival by helping us welcome 25,000 attendees! It is a huge endeavour and we could not do it without you! As a matter of fact, we LOVE our volunteers and as a token of our appreciation, we offer many perks to thank you for your contribution.
Why become a volunteer?
Get involved in an exciting creative project and open your mind to different perspectives;
Meet extraordinary people;
Learn and develop new skills;
Take part in a festive community event where you are encouraged to dress up every day you come to work;
Share your love of interacting with children;
Show that you care about your community; and
Create memorable moments.
What are the perks?
Free snacks and treats at the Volunteer Centre, a place where you can rest, refuel, hang out during your break and expand your circle of friends.
Free Friday night show for three shifts worked (this does not include the training/orientation)
Free t-shirt for three shifts worked (this does not include the training/orientation)
Activity Village Wristband: You will receive one Free wristband to the Activity Village for each day you volunteer. This means you can bring your sibling or come back to the Festival at a later time.
Signed Confirmation outlining that you volunteered "x" hours for the Festival. This is not a reference letter. It is a note confirming your participation in the Festival.
School credit for hours volunteered. If you require Work Experience forms and Work Experience Evaluation forms completed, you need to volunteer a minimum of 21 hours.
Reference Letter upon request for volunteers who contributed a minimum of 30 hours (this does not include the training/orientation)
All volunteers who complete 30 hours or more will be invited to the Volunteer Party on Sunday May 31, 2020 after the Festival closes to let loose and have some fun.  There will be food, beverages, cake, candies and the opportunity to win prizes and to share your highlights of the Festival with other volunteers and Festival staff members.
What makes a successful volunteer?
Excellent command of the English language.
Good communication skills.
Reliable and dependable.
Attend the training session(s).
Willing to give your time with a smile.
Contribute to the best of your abilities.
Flexible, patient, respectful with a good dose of humility.
Like to have fun!
What positions are available?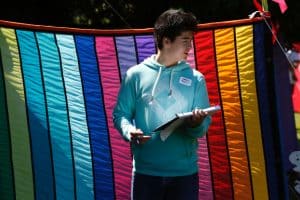 From now until January 2020: We are looking for high school students to be part of our Key Volunteer program. All Grade 10 (and up) students from the Lower Mainland (public and private schools) are encouraged to apply for the position and form a team of Key Volunteers to represent their school. Working from home and at school,  the Key Volunteers attend monthly meetings (Saturday mornings from December to June) and work from school to advertise the positions available at the Festival, guide candidates through the online application process, interview fellow students, assist in the assignment of positions and provide candidates assessments online. On average, this position takes 20 hours throughout the school year. If this sounds interesting, please check out the Key Volunteer job description and email us your résumé at volunteer@childrensfestival.ca We will be in touch to set up an interview and discuss the position. This is a great way to showcase your leadership skills and set up your schedule as you see fit!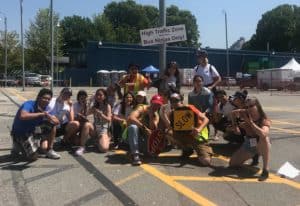 During the Festival and the week before (May 18 to May 31, 2020): We have a lot of positions to choose from, so we have categorized them in three groups depending on the time commitment and skills required. On average, a shift is seven hours long.
Volunteer position requires a commitment of 2 shifts
Host position requires a commitment of 3 shifts
Key Assistant position requires a commitment of 5 shifts
Please take a few minutes to read the different positions available by clicking on the links above before you decide to proceed and join our team!
JOIN THE TEAM
Interested? fill out the online application form. Please contact us at volunteer@childrensfestival.ca or call us at 604-708-5655 with any questions, we would love to hear from you!
I loved volunteering at the Creature Creations Tent. It was really fun and I loved seeing all the kids proudly show off their creatures. Thank you for giving me the opportunity to meet countless people, make new friends, and enhance and learn many new skills. Overall, I genuinely enjoyed the entire festival and would love to do it again next year! ~ 2019 Festival Volunteer

Thank you so much for giving me the opportunity to volunteer with the children's festival! I truly appreciate the time you took to talk with me and explain all the basics of this event. I enjoyed learning more about working with others.~ 2019 Festival Volunteer