Volunteer
Volunteers, we need you!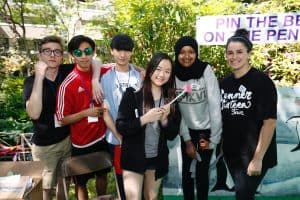 Volunteers are essential to the Vancouver International Children's Festival. Our Festival can only run smoothly with the generous help of a 1,000 devoted volunteers. Each year, volunteers, like you, contribute to the success of the Festival by helping us welcome 25,000 attendees! It is a huge endeavour and we could not do it without you! As a matter of fact, we LOVE our volunteers and as a token of our appreciation, we offer many perks to thank you for your contribution.
Why become a volunteer?
Get involved in an exciting creative project and open your mind to different perspectives;
Meet extraordinary people;
Learn and develop new skills;
Take part in a festive community event where you are encouraged to dress up every day you come to work;
Show that you care about your community; and
Create memorable moments.
What are the perks?
Free snacks and candies at the Volunteer Centre, a place where you can rest, refuel, hang out during your break and expand your circle of friends.
Free Thursday night or Friday night show for three shifts worked (this does not include the training/orientation)
Free t-shirt for three shifts worked (this does not include the training/orientation)
Activity Village Wristband: You will receive one Free wristband to the Activity Village for each day you volunteer. This means you can bring your sibling or come back to the Festival at a later time.
Signed Confirmation outlining that you volunteered "x" hours for the Festival. This is not a reference letter. It is a note confirming your participation in the Festival.
School credit for hours volunteered. If you require Work Experience forms and Work Experience Evaluation forms completed, you need to volunteer a minimum of 21 hours.
Reference Letter upon request for volunteers who contributed a minimum of 30 hours (this does not include the training/orientation)
All volunteers who complete 30 hours or more will are invited to the Volunteer Party! Join us after the Festival to let loose and have some fun.  There will be food, beverages, cake, candies and the opportunity to win prizes and to share your highlights of the Festival with other volunteers. You will also get a peak into the impact you had on the thousands of kids who came to the Festival with their class.
What makes a successful volunteer?
Excellent command of the English language.
Reliable and dependable.
Attend the training session
Willing to give your time with a smile.
Contribute to the best of your abilities.
Flexible, patient, respectful with a good dose of humility.
Likes to have fun!
What positions are available?
We have a lot of positions to choose from, so we have categorized them in three groups depending on the time commitment and skills required. On average, a shift is seven hours long.
Volunteer position requires a commitment of 2 shifts
Host position requires a commitment of 3 shifts
Key Assistant position requires a commitment of 5 shifts
Please take a few minutes to read the different positions available by clicking on the links above before you decide to proceed and join our team!
JOIN THE TEAM
Interested? Please fill out our Volunteer Registration Form  so we can find you the best possible position based on your skills and interests.  Thank you and we look forward to having you on our team!
If you have any questions, please contact us at volunteer@childrensfestival.ca or call us at 604-708-5655.
Thank you all for having me for these days and you guys are all nice and patient to me. I had a really fun and amazing experience at the Children's Festival this year. I enjoyed volunteering with all of you! I will come back next year! Thank you so much! ~ 2018 Festival Volunteer
I just wanted to thank you for allowing me to be a key volunteer for your 41st annual Children's Festival. […] I am truly grateful for you for providing me an amazing opportunity. I can say that by far this was my best volunteer experience. It wouldn't have been possible without you and your team. Once again thank you so much. ~ 2018 Festival Volunteer