The Starting Point of Missy D: 1, 2, 3 let's go, let's go!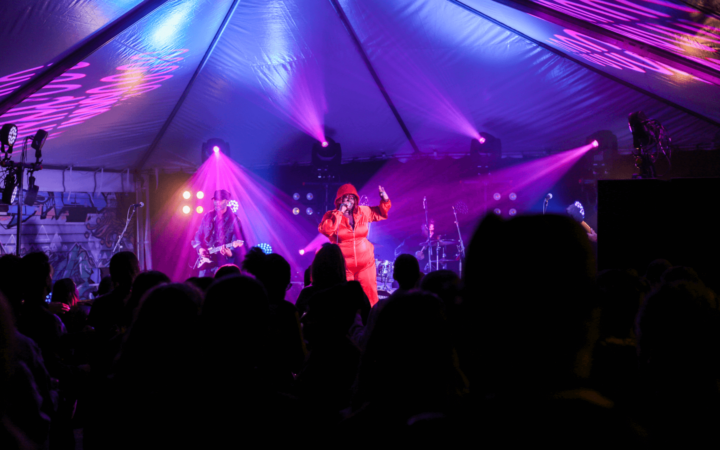 C'est une célébration musicale et culturelle.
Retour à la demande! Si vous ne la connaissez pas encore, eh bien apprenez à la connaître et retenez ce nom — Missy D. Elle rappe depuis l'âge de 11 ans en français et en anglais venant des 3 coins de l'Afrique (le Rwanda, la Côte d 'Ivoire et le Zimbabwe). Missy D est une artiste hip-hop, rap et soul qui fait de sa musique une forme de thérapie pour exprimer tous ses sentiments, partager un message et se connecter avec son public. C'est une fusion des sons de son enfance allant des mélodies françaises, aux légendes du r&b, du rap, de la soul, du jazz, du rock et du hip hop. Missy D vous invite dans son univers plein d'émotions et en chantant YES MAMA pendant que Missy D célèbre cette diversité dans les instrumentaux, dans la musique et surtout dans notre monde. 123, on y va, on y va! Vidéo.
Back by popular demand! If you don't know this artist yet, what have you been waiting for? Missy D is a hip hop, rap & soul artist who makes music as a form of therapy. She empowers folks with love and music as a way to express feelings, share a message and connect with listeners. This femcee comes from the 3 corners of the motherland (Rwanda, Côte d'Ivoire, Zimbabwe) and has been rapping since she was 11 years old in French and English in a style she calls Rap & Soul. In a fusion of sounds from her childhood, Missy draws inspiration from French melodies to r&b, soul, jazz, hip hop, rock and rap legends. Missy D will have you feeling all the feels and singing YES MAMA as she embraces diversity in instrumentals, music and most of all, people. 123, on y va, on y va!
Ways to Watch
IN PERSON
Watch a live performance at the venue.
TICKET INFORMATION
FOR SCHOOLS:
$12+GST /ticket for one show
$11+GST/ticket for two shows
Accessibility Information
Accessibility:
Hearing Assistance

Wheel Chair Accessible
Accessibility advisory:
- This show may have loud/sounds or noises or repetitive noises.
- This show has background music.
- Children will be invited on stage. If selected, they may bring guardian to join them. These children may be asked to participate (e.g., paint, draw, read, construct things, sing, in groups on stage, or select items on stage).
- At one point in the show, the artist will enter the audience.
- The audience will be asked to walk/dance/move around during the show.
Show times & Tickets
In person
| Wednesday, May 29 | Additional show info | In person |
| --- | --- | --- |
| 12:30 – 1:15 PM en Français | | Get tickets |
| Thursday, May 30 | Additional show info | In person |
| --- | --- | --- |
| 10:30 – 11:15 AM en Français | Q&A | Get tickets |
| 12:30 – 1:15 PM en Français | | Get tickets |
| Friday, May 31 | Additional show info | In person |
| --- | --- | --- |
| 10:30 – 11:15 AM en Français | | Get tickets |
Show highlights
Testimonials
School TICKETS ARE ON SALE Now! RESERVE YOUR STUDENTS OR GROUP BY PURCHASING ONLINE