Support
Your donations help us enrich the lives of children and ensure the Festival remains affordable for everyone.
There are many ways you can make an impact, with each contribution helping keep the Vancouver International Children's Festival vibrant in our community.
Vancouver International Children's Festival is a registered charitable organization (CRA #118833532RR0001) and can issue charitable tax receipts for donations over $20.00.
Your gift will help us:
Enrich the lives of children
Ensure that the Festival remains affordable for everyone
Enable the Festival to program exciting and creative artistic works
Express a strong message to children that the arts are an important and meaningful part of life.
Community Programs
GOOD NEIGHBOURS

For too many families, a day at the Children's Festival is just not possible. Become a "Good Neighbour" and share the magic of the festival with children and parents who otherwise would not be able to attend. Each year the Festival distributes performance tickets at no cost to low income families through I.S.S. of BC and Kids Up Front, a non-profit society that distributes free tickets for arts, culture, sporting and recreational events to child-serving organizations across Metro Vancouver. Over the past three years, nearly 2,000 families have attended the Festival at no charge through the generosity of individual donors.
* A suggested donation of $65.00 will allow a family of four to play all day! However donations of any amount are welcome and valued!
 Thank you so much for making it possible for my children and me to attend the Children's Festival when we would have otherwise not been able to. It is such a great venue and such a fun time. We really appreciate your efforts to make this possible for us. – Ticket recipient
ADOPT A CLASS
Over the past twelve years more than 30,000 children from school districts across the Lower Mainland have attended the Festival thanks to the generosity of corporate and foundation donors. This program provides return bus transportation and featured performance tickets for school groups in low-income neighborhoods across Metro Vancouver that would otherwise be unable to attend the Festival. The need for this program in reinforced each year with the wonderful letters we receive from students and teachers expressing their heartfelt thanks to their donors.
$1,200.00 per class
Thank you very much for your wonderful donation of Children's Festival tickets and transportation. Nightingale's students are from Vancouver's inner city and would never have the opportunity to attend such an event without your support. What made things even more fantastic was the fact that djembe drums were used in the show, an instrument we have been learning to play.  Greg Canning, Teacher, Nightingale Elementary School, Vancouver.
Thank you to our 2017 Adopt a Class Sponsors!
 
Kal Tire | Christopher Foundation | Connor, Clark & Lunn Foundation | IBI/HB Architects | MacDonald Dettwiler & Assoc. Ltd
McCarthy Tetrault Foundation | Teresa Sutherland | Diamond Foundation | Vancouver Kidsbooks
HOSPITAL OUTREACH PROGRAM
For too many children, a day of learning and laughter at the Children's Festival is not possible due to illness, injury or physical challenges. Our Hospital Outreach Program brings the Festival experience to children receiving treatment or in care at child-centre healthcare facilities serving all British Columbians: B.C. Children's Hospital, Canuck Place and Sunny Hill Health Centre. Children unable to leave their facilities can share in the Festival spirit with their families and benefit from the healing power of music and laughter.
Approximately $5,000 per Facility visit – but every dollar helps!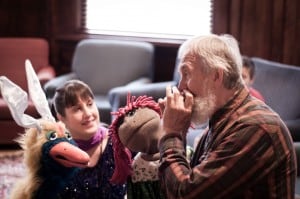 Thank you to our Foundation partners for making this program possible
Highbury Foundation
Lohn Foundation
Lutsky Family Foundation
Loyal Protestant Association
Mirhady Family Fund
Andrew Mahon Foundation
***
Go to Canada Helps to donate now!
Vancouver International Children's Festival Society is a registered charitable organization (CRA #118833532RR0001)