Hospital Outreach Program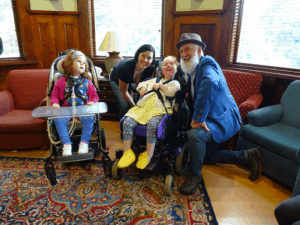 For too many children in our community, a day of learning and laughter at the Children's Festival is not possible due to illness, injury or physical challenges. Our Hospital Outreach Program brings the Festival experience to children receiving treatment at child-centred healthcare facilities. Children unable to leave their facilities can share in the Festival spirit with their families and benefit from the healing power of music, dance and laughter.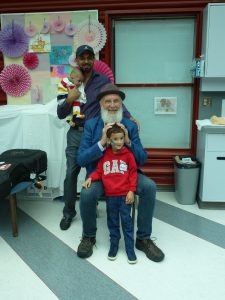 Since 2007, the program has become firmly established as a highly anticipated, annual event at Canuck Place, B.C. Children's Hospital and Sunny Hill Health Centre. At each facility, we offer a 30-minute performance by a Festival headline performer in additional to an afternoon of interacting with our professional face painters, circus performers and costumed characters.

Working with staff at each healthcare facility, programming is selected based on suitability for the children at each of the following:
Canuck Place Children's Hospices – provides care for terminally ill children at two facilities (Vancouver and Abbotsford). Canuck Place welcomes the VICF in their family lounge, offering a very special experience for the residents, those in respite care, their families and caregivers.
B.C. Children's Hospital – the primary acute pediatric care facility in British Columbia, Children's Hospital provides specialized services to children and youth from across the province requiring treatment for conditions such as oncology and cardiac illnesses, burn injuries, surgeries, and diseases such as Crohn's or diabetes; we also work with the BCCH communications team to organize media relations for this visit;
Sunny Hill Health Centre – provides services to children from birth to age 19 with physical and neurological disabilities; this visit takes place in Sunny Hill's gym and also serves hearing-impaired children attending the adjacent Vancouver Oral Centre for the Deaf;
The Hospital Outreach program is a vital component of our annual community outreach initiatives. The program provides a much-needed respite for the 300 or more children who can benefit from the Festival programming without having to leave their facilities or interrupt their treatment. The smiles of delight on the faces of children, who for even one hour, can forget about their illness or physical challenge, are a testament to the value of this program.  Laughter often really is the best medicine.
As a staff member at Sunny Hill I can't tell you how wonderful it is to have Children's Festival performers come to see us.  Many of our children are not able to leave our facility to go out to events.  Having such a close up and personal experience with these performers allow our children who have a variety of disabilities to interact with the performer in ways that are meaningful to them.  Charlotte Diamond was spectacular…enjoyed by both adults and children.  One of my favourite performances at Sunny Hill.  Cheri Steele, Sunny Hill Health Centre Recreation Therapist
Go to Canada Helps to donate now!
Vancouver International Children's Festival Society is a registered charitable organization (CRA #118833532RR0001)
Thank you to our Foundation partners for making this program possible
Lohn Foundation | Mirhady Family Fund held at Vancouver Foundation
***