HOST and Festival Guide INFO
Hosts/Festival Guides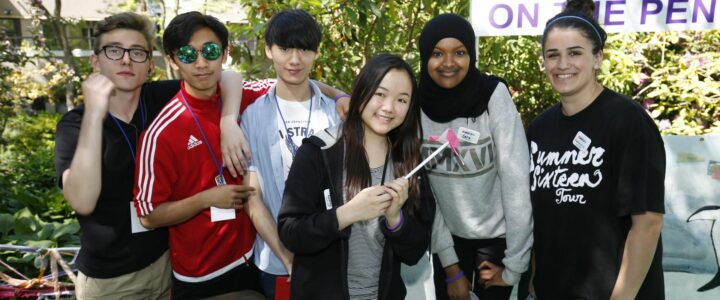 HOSTS / FESTIVAL GUIDES (3 shifts minimum)
Hosts will receive a personal reference letter from the Festival.
Host position is best suited for energetic people who are good with directions, good communicators, and feel confident leading a group of people.
As a Festival guide/host, you will be assigned to a school group and be their guide for the Festival. This means taking them to their venues and around the Festival site. On the weekends, you will assist the general public if they have any questions about the Festival, including shows and how to get around.
LE BÉNÉVOLAT EN FRANÇAIS/FRENCH SPEAKING VOLUNTEERS LA JOURNÉE FRANCOFUN!
Jeudi 2 juin / Thursday June 2
Parlez-vous français? Voilà l'opportunité que vous attendiez! Notre Journée FrancoFun, jeudi 30 mai, vous offre une grande gamme de possibilités pour faire du bénévolat avec beaucoup de spectacles et d'ateliers en français.
For those comfortable speaking French, sign up for our FrancoFun Day. There's lots to do in both languages! Nous avons également besoin de bénévoles qui parlent français pour nos spectacles et activités en français (et surtout comme placiers et hôtes). We may also need French speakers in advance, for our French Language shows and activities and specifically as Hosts and Ushers.
JOIN THE TEAM
Contact Carmen at volunteer@childrensfestival.ca or call us at 604–708‑5655 with any questions, we would love to hear from you!
If you are interested in volunteering, please fill out the Online Application Form below.