Vancouver International Children's Festival Announces 2023 Lineup
Vancouver International Children's Festival Announces 2023 Lineup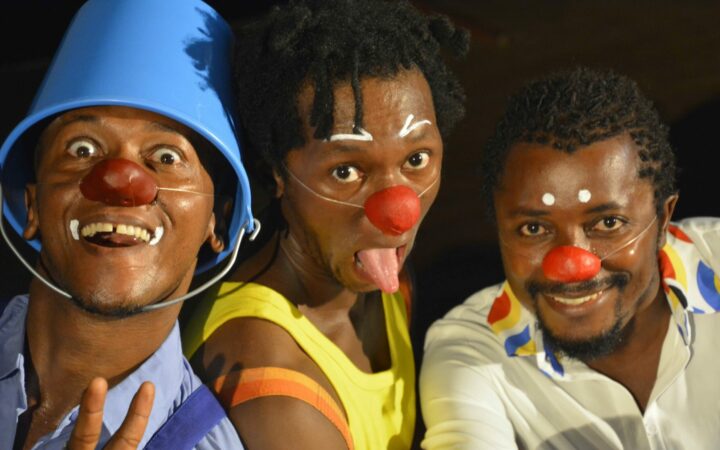 Vancouver, BC (April , 2023) ‑The 46th Annual Vancouver International Children's Festival takes place May 30 – June 4 In-person on Granville Island and May 30 — June 23 Online where world-class theatre, music, dance, circus, puppetry and storytelling performers come to entertain Metro Vancouver children and families. This year, 18 professional performing artists from as far-reaching as Australia and Madagascar are scheduled to perform 80 shows.
"This year's Festival offers a feast of outstanding shows and interactive visual arts activities that invite children and families to ignite their playful joy. With the stressful demands of daily life and the strong influence of digital devices in our lives, there's an incredible need to experience the joy of the arts," states Katharine Carol, Artistic and Executive Director. "We invite families to spend some quality time together at a day at the Children's Festival. The Children's Festival is an opportunity for parents and their children to slow down for a moment and focus on what's important in life: to dance, to be silly and to connect with each other."
Highlights of this year's Festival include A Simple Space and ZOOOM from Australia and Sakasaka from Madagascar as well as local and national favourites.
Tickets are now on sale to the general public and can be purchased online at ChildrensFestival.ca, or during the Festival at the on-site box office located between Festival House and the Waterfront Theatre on Granville Island.
In-person Tickets start at $12.50 per child/senior and $22 per adult plus service charges and tax. Each In-person performance pass includes an Activity Village wrist-band. With over 15 arts activities, the Activity Village offers many ways to engage your imagination and enhance your creativity all while having fun together as a family.
Online Tickets can be purchased for $24 per household, plus service charges and tax. Viewers can watch one Vancouver International Children's Festival Online Performance for only $24 per show. The pre-recorded online performance is available starting from Tuesday, May 30 at 9:30am until Friday, June 23rd at 4pm and can be watched multiple times. Online tickets also include access to two Online Arts Workshops.
2023 Featured Performers
In-Person Performers
Tree (Motus, Québec) — Share a special moment with your little one. Experience the magical world of Tree in this gentle and intimate show for the youngest of audiences. Tree is a rare opportunity for your baby to experience live theatre created just for them! Settle into mama bird's cozy nest while she warms her luminous clutch of eggs. Plants, insects, and animals visit, accompanied by soothing melodies and rhythmic music. As evening falls, you'll rest under the rising moon, stars, and the shimmering Milky Way, gathering strength to spread your wings like a fledgling bird of light. Ages 0–2.
Welcome to Missy D's (British Columbia) — If you don't know this artist yet, what have you been waiting for? Missy D is a hip hop, rap & soul artist who makes music as a form of therapy. She empowers folks with love and music as a way to express feelings, share a message and connect with listeners. This femcee comes from the 3 corners of the motherland (Rwanda, Côte d'Ivoire, Zimbabwe) and has been rapping since she was 11 years old in French and English in a style she calls Rap & Soul. In a fusion of sounds from her childhood, Missy draws inspiration from French melodies to r&b, soul, jazz, hip hop, rock and rap legends. Missy D will have you feeling all the feels and singing YES MAMA as she embraces diversity in instrumentals, music and most of all, people. All ages. All performances are in French.
A Simple Space (Gravity & Other Myths, Australia) — You'll flip, fly and fall in love with this exciting, jaw-dropping show where seven acrobats push their physical limits to the extreme. A breathtaking display of fear-less acrobatics and death-defying feats, A Simple Space will blow you away. Simple only in its setting, the show's stripped-down and bare staging let the strength, skill and creativity of Gravity & Other Myths' acrobats take centre stage. The stakes get higher as each try to outdo the other with greater and more daring stunts and off-the-wall tricks. You can feel the heat from their bodies, hear every breath as the performers hurl one another through the air and build teetering human towers. Wow, feels like an understatement. Run, don't walk to this show! Ages 7 and up.
Magnetic North (RupLoops, British Columbia) — Magnetic North is an interactive, live looping, high-energy performance that will bring you to your feet. Using sound samples of endangered environments and animals in BC, RupLoops will take you on a journey through sonic ecosystems. RupLoops brings the sounds of BC's environment to life through music in a performance that also explores deeper themes about climate change, endangered animals, justice and environmentalism. With music, visual art, lyrics and interactive games, RupLoops' latest show encourages us to take action in the world to create a better future. Kids will be inspired in more ways than one. All ages.
ZOOOM (Patch Theatre, Australia) — Combining state-of-the-art technology with a touch of whimsy, ZOOOM is an enchanting story about a pixel of light that falls into a child's room. Children become part of the show using a light they are given as they enter. With the audience's help, the girl embarks on an adventure with light and discovers that the dark is a magical place. Inspired by the classic children's book Harold and The Purple Crayon, ZOOOM uses original music, lasers and projections to take the audience on an immersive shared journey. Kids (and parents) will love this playful, interactive show where light is used to solve problems and build worlds. Age 3–10.
One of a Kind (Youth for Youth Program and Deborah Williams, British Columbia) — The world is a spectacular kaleidoscope of people with fascinating stories as unique as every one of us. One of a Kind is created around the true stories performed by the people who lived them; a talented, diverse group of extraordinary emerging theatre artists. The storytellers share their one-of-a-kind childhood tales filled with truth, cultural perspective, family languages, challenge, laughter and adventure. Using physical theatre, puppetry, music, movement and more, they offer an extraordinary exploration of the universal expression of storytelling. Children will recognize themselves and be inspired to share their own stories. Commissioned by the Vancouver International Children's Festival. Ages 7 and up.
Sakasaka (Compagnie Zolobe, Madagascar) — Add a splash of joy to your day with Madagascar's Compagnie Zolobe! Using only a mop, a bench, and buckets, three clowns will have you laughing out loud as they continually try to drink a cup of water. Of course, nothing goes right and the resulting antics are hilarious. Expect the unexpected as the clown trio takes the audience on many adventures including a Thriller dance homage, a trip on the Titanic and open-heart surgery! Sakasaka, which means thirsty in Malagasy, is a word-less, physical comedy with live music and sound effects. Delightfully entertaining, Sakasaka also highlights the global issue of water scarcity and the importance of protecting this precious resource. All ages.
Division Infinity Saves the World! (Neworld Theatre, British Columbia) — Division Infinity is a class of top-secret elementary school students coming together to solve the biggest problems facing kids across the world. Today, their teacher Ms. McToria has brought them an urgent new assignment: defeat the evil Cononi-19 virus! Super-secret student agents Soda, Chiqui and Spiderwolf are tasked with creating an ultimate mission plan to end the pandemic and they need your help. Will they beat Cononi and finally bring back birthday parties, playdates, and abuela-visits? Join Division Infinity and find out! A puppet show inspired by stories, art, and puppets created by real Grade Four students reflecting on their pandemic experiences. Commissioned by the Vancouver International Children's Festival. Ages 7–12.
Small But Mighty — Ginalina and Friends (British Columbia) — Immerse yourselves in a wonderful interactive and multilingual concert themed on the value of every child, and the small but mighty roles we play in nature stewardship, community building, and everyday kindness. Sing, dance, and be part of the Western and Eastern musical wonders of Accordion, Guitar, Ukulele, Percussion, Erhu, and Zither, alongside Ginalina's Friends and Guests from the Vancouver Chinese Music Ensemble. Ginalina is a bright star on the Canadian Family Folk scene and three-time JUNO-nominated Artist with music videos CBC and BC Kids' Knowledge Network. This concert includes songs from her newest album, and will be in English, French, and Mandarin with printable activity booklets. Ages 0–9.
The Wild Moccasin Dancers Ft. Mz Shellz (6 Nations and mixed Indigenous, British Columbia) — The Wild Moccasin Dancers want to share the gift of dance with you! This dynamic dance collective, featuring award-winning female hip hop artist Mz Shellz, will showcase a contemporary fusion of pow wow drumming, dancing and hip hop. Experience the stunning vibrancy of pow wow culture as each dancer shares their style of dance through traditional and contemporary rhythms. Get ready to be inspired by the regalia, songs, dances and stories! All ages.
Glamily: A Family Dress-Up Party (Tara Cheyenne Performance, in association with Zee Zee Theatre and Carousel Theatre for Young People, British Columbia) — Join Peach Cobblah and other local drag talents for a spectacular evening of dress-up at Glamily! A gender-creative dress-up party for families, Glamily encourages young people to creatively express themselves! Glamily is part drag show, part lip-sync open mic, part dress up party and 100% fun! Dance, celebrate, laugh and play as you get creative and show off your most glamorous and colourful self at a pajama night like no other. All ages.
David Bouchard: Stories, Flutes and More…(British Columbia) — Gifted storyteller and award-winning author, David Bouchard shares his Indigenous heritage through inspiring stories and touching flute music. David weaves history and traditions into engaging and vivid tales that provide a path for children to better understand Indigenous beliefs and culture. A small piece of Reconciliation and a beautiful expression of First Nation spirituality, history and culture, this show is sure to enrich and delight everyone. Ages 7 and up.
Aché Brasil (Brazil and British Columbia) — Get ready for an explosion of colour, energy and music that embodies the lively culture and rhythms of Brazil. The exhilarating combination of martial arts, dance, music and acrobatics known as capoeira is full of kicks, flips and vibrant colours. Dazzling costumes, hypnotic rhythms and energetic dances will sweep you away. Performed to the music of drums and ancient stringed berimbau, the lively dancers of Vancouver's own Aché Brasil will knock your socks off! A delightful, high-energy show that will leave you asking for more! All ages.
Tree, a world in itself (Motus, Québec) — In this gentle and intimate show, settle into mama bird's cozy nest while she warms her luminous clutch of eggs. Plants, insects, and animals visit, accompanied by soothing melodies and rhythmic music. As evening falls, you'll rest under the rising moon, stars, and the shimmering Milky Way, gathering strength to spread your wings like a fledgling bird of light. Tree, a world in itself, is a multi-sensory, interactive universe enveloped in soft light, music, and silence, where five characters continually adapt to meet the needs of their audience. Created for Autistic children and adapted for children with intellectual disabilities and/or reduced mobility. Ages 4 and up.
Will and Seeka: Friends with Everyone (British Columbia) — Grab a friend and get ready to boogie with Will and Seeka at this energetic and interactive concert! Will and Seeka along with a talented band perform high-energy sing-along tunes mixed with fun actions and movements. Dance along to catchy songs about colours, the alphabet, days of the week, weather, food, animals, daily routines and family and friends. Kids will leave the show with joyous songs in their hearts and a skip in their step. Ages 0–8.
Variety Show — Watch Festival performers cut loose at our annual Variety Show! This year's tour de force, features the daring acrobatics and death-defying feats from A Simple Space, a dance extravaganza from the The Wild Moccasin Dancers, rhythmic rhymes and animal grooves with RupLoops and a feast of dazzling costumes, traditional music and energetic dances from Aché Brasil. Plus, sing along with local drag queen and host Peach Cobblah from Glamily! This fun-filled evening is always a highlight for kids and adults alike. All ages.
Online Performers
Cris Derksen's Nerds Whirlwind Musical Tour (Cree Nation, Northern Alberta) — Take a Nerd's Whirlwind Musical Tour with internationally respected Indigenous cellist, composer and big kid Cris Derksen where a "classical" instrument takes on a new life. She'll share with you how she creates her unique musical 'sound-print' that weaves her classical background and her ancestry together with electronics. Cris will introduce you to her cello, loop station and effects pedals as she creates and performs using the technology that surrounds her. Come join Cris for a fun and creative exploration of the magic of music. Ages 8 and up.
Oopsie! (Candice Roberts, British Columbia) — Dr. Professor is on a quest to answer the question, "Is it OK to make mistakes?" When taking their research to the young experts of the classroom, more than a few foibles cause the doctor to continuously fail. With help from their assistant, together they uncover how mistakes can help us learn and make new discoveries. Award-winning, inter-artist Candice Roberts performs this fun and clever story about growth mindset and the creative process through a seamless weaving of shadow puppetry, original music, tap dance and physical comedy in this fun and interactive theatrical experience. All ages.
The Vancouver International Children's Festival gratefully acknowledges the following for their generous support: The City of Vancouver Cultural Services, the BC Arts Council, The Government of British Columbia — Ministry of Tourism, Arts, Culture and Sport, the Government of Canada, Canada Council for the Arts, CMHC Granville Island, the Vancouver Fraser Port Authority proudly representing the Port of Vancouver, Amacon, CN, FortisBC, Diamond Foundation, SunRype, Pattison Outdoor, Squamish Nation, Lamar Transit Advertising, Moonrider Productions, City TV, Omni, Stir Arts & Culture Vancouver, Vancouver is Awesome, VancouverMom.ca, Postmedia Network Inc. and Fairchild Media Group.
About the Vancouver International Children's Festival
The longest running professional performing arts festival for young audiences and the first of its kind in North America and Europe, the Vancouver International Children's Festival presents the world's finest music, theatre, dance, puppetry, acrobatics and storytelling, as well as creative arts activities for the entire family. Families come from near and far to experience this extraordinary annual arts festival created specifically for children and families. We are dedicated to providing creative, diverse programming that engages and delights our young audience.
Media interview requests please contact:
Joanne Da Silva | Communications Manager
Vancouver International Children's Festival
e: marketing[@]childrensfestival.ca
t: 604.708.5655
About the Canada Council for the Arts
The Canada Council for the Arts contributes to the vibrancy of a creative and diverse arts and literary scene and supports its presence across Canada and around the world. The Council is Canada's public arts funder, with a mandate to "foster and promote the study and enjoyment of, and the production of works in, the arts." The Council's grants, services, initiatives, prizes, and payments support Canadian artists, authors, and arts groups and organizations. This support allows them to pursue artistic expression, create works of art, and promote and disseminate the arts and literature. Through its arts funding, communications, research, and promotion activities, the Council fosters ever-growing engagement of Canadians and international audiences in the arts. The Council's Public Lending Right (PLR) program makes annual payments to creators whose works are held in Canadian public libraries. The Council's Art Bank operates art rental programs and helps further public engagement with contemporary arts through exhibition and outreach activities. The Council is responsible for the Canadian Commission for UNESCO, which promotes the values and programs of UNESCO to contribute to a future of peace, reconciliation, equity, and sustainable development.