Variety Show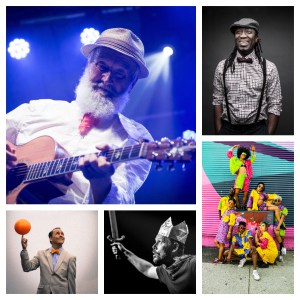 Watch Festival performers cut loose at our annual Variety Show! This year's tour de force, hosted by none other than Fred Penner, features the zany circus antics of Jamie Adkins, the uplifting songs and joyous energy of Élage Diouf, a high energy dance extravaganza from Immigrant Lessons, and the captivating storytelling from one of Scotland's finest storytellers, Andy Cannon. For a special treat you'll also have the opportunity to sing along with one of Canada's best-loved children's singers, as host Fred Penner will be performing! This fun-filled evening is always a highlight for kids and adults alike.

Genre: Music, Circus, Storytelling and Dance
Show length: 90 minutes!
Age: All ages!
Venue: Granville Island Stage (Venue 2)
Show Times
Saturday, June 1, 2019
6:30 pm — 8:00 pm Granville Island Stage
Tickets
One Show Day Pass: $22.00 per adult; $19 per child + GST and s/c
More info on ticket pricing

Note: Our on-site activities are NOT open during the Evening Shows. Show your ticket anytime during the Festival and you'll get an Activity Village wristband for that day.