Vu: By Étienne Manceau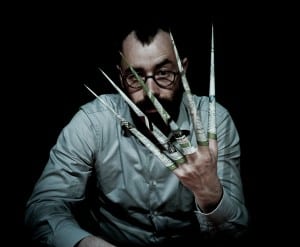 Manceau's performance is wordless, a blend of Object Theatre, clowning and what the artist calls "miniature circus." It's a delightful, giddy and suspense-filled mix that could only come from the mind of the eccentric and endearing clown that Manceau has created.
The world of circus artist Étienne Manceau is a strange and funny place. His quest to make the perfect cup of tea turns into a hilarious obsession where everyday objects appear in a totally new light as they are touched, moved and transformed.
Vu was created in Toulouse, the centre of contemporary French Circus, where Manceau worked for years as a juggler, and has had deep involvement in circus culture. This one-man show, applies the spirit of circus and clowning to one man's obsession with making a cup of tea. It's about a sensitive, meticulous man and his relationship with objects—how he transforms them, and how in turn they affect him. The creator shows wit, wonderful dexterity and small-scale ingenuity. In his comic mugging, his precise physical feats and his sheer wackiness he calls upon the tradition of old-fashioned physical comedy—but rest assured, this guy is very modern, and one of a kind.
You'll be amused, impressed and entertained. Come see contemporary circus at its best!
The Vancouver International Children's Festival and PuSh International Performing Arts Festival are delighted to be able to present this fun and engaging production.
Show Info
Length: 60min
Q&A: This wordless show will have a Post-Show Q&A in English or French
Venue: Performance Works on Granville Island
Ages: Grade 5 and up
School Show Times
Wednesday, January 20, 12:30pm
Thursday, January 21, 10:00am & 12:30pm
Friday, January 22, 12:30pm

School Tickets
School Groups of 10 or More: $11+GST/ticket (more than 50% off the regular price)

Call 604–708-5655
or email to Book
Public Show Times
Friday, January 22, 8:00pm
Saturday, January 23, 2:00pm & 8:00pm
Sunday, January 24, 2:00pm
Tickets
Special price for Children's Festival Goers: $11+GST/child, $20+GST/Adult!

Call 604–708-5655
or email to Book
Ingenious… The effect of this minimalist show, a jewel polished to the highest detail, is for the audience to realise how maniacally they act each day of their life.

- Florentina Bratfanof, Scena.ro Magazine
It is a circus in a matchbox which speaks of much bigger things – our little (or not so little) manias and oddities, weapons in the fight against loneliness, the fragile supports and walls of our world, and the dimensions in which we allow ourselves to live.

- Gergana Stoytcheva, Unpack the Arts