Reimagine Fun at the Vancouver International Children's Festival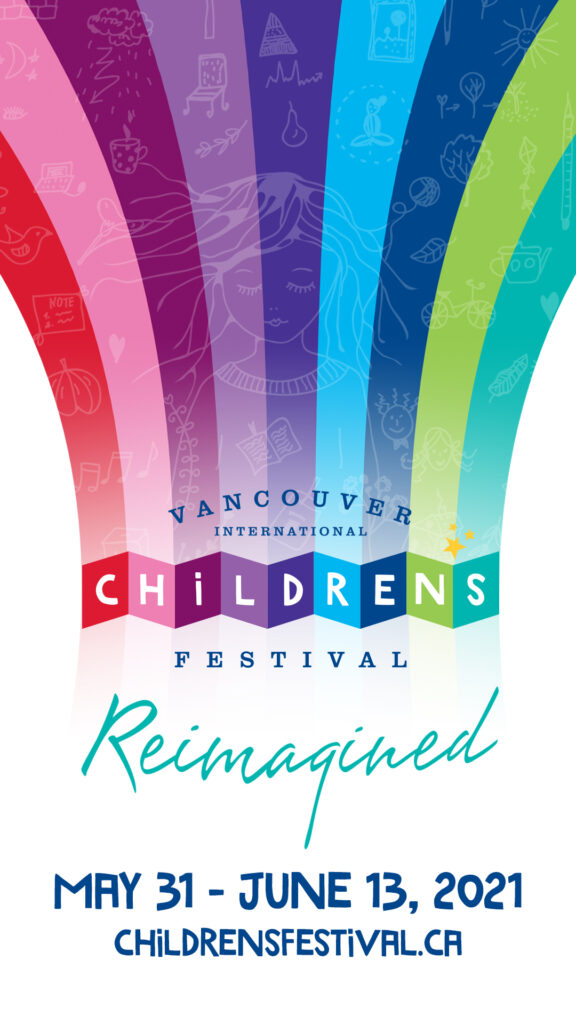 Vancouver, BC — The Vancouver International Children's Festival announces an extraordinary online line-up of world-class theatre, music, dance and storytelling created specifically for children and youth. The Festival returns from May 31 to June 13 to entertain Metro Vancouver children and families. This year, families can experience the Festival online from the comfort of home and choose from a large selection of diverse professional performances. Performing artists from as far reaching as India, Australia, Scotland, France and the United States are scheduled to perform.
The reimagined 2021 Festival will offer a mix of Live Online and Pre-recorded Online performances with an extra 7 days of extended show viewing. The Festival, which normally runs for a week, will offer unlimited streaming access until June 13th at 8pm, allowing families to watch online shows multiple times and at moments that work best for them.
The pandemic has been particularly hard on families. To support families and ensure the Festival is accessible and affordable to all, no matter their current circumstances, the Vancouver International Children's Festival is offering pay-what-you-can pricing this year.
"We know parenting can be challenging on a good day and the pandemic has made life a lot more stressful. Because of this, the Festival is committed to supporting families with pay-what-you-can pricing," states Katharine Carol, Artistic and Executive Director. "Now more than ever, there is an incredible need to experience the joy of the arts. The Children's Festival is an opportunity for parents and their children to forget their worries for a moment and focus on what's important in life: to dance, to be silly and to connect with each other."
Highlights of the 44th annual Festival include Canadian music icon and one of Canada's best-loved children's singers, Fred Penner. Also noteworthy, When the Colours Ran Away, is an interactive digital arts film and Festival commission by ThinkArts of India. The film uses live action and animation to tell the story about the shenanigans of a group of colours in an Emily Carr painting. Another featured performance, A Piece of You, is a private interactive concert for just your household, where Scottish artist Greg Sinclair takes your personal story and turns it into a song. Furthermore, an exceptional lineup of first-time festival performers and local artists, such as Ideas Bobert, will grace the Festival's digital stages. There truly is something for everyone.
In addition to the many incredible shows, the Festival is presenting a series of Online Arts Workshops making it easy for the whole family to be creatively playful together. With six online arts activities to choose from, there are many ways to engage children's imagination and enhance creativity all while having fun together as a family. All performance tickets include access to the Online Arts Workshops. Ticket-holders can watch the workshops live online or view a recorded version at a more convenient time.
Tickets are on sale now and can be purchased online at childrensfestival.ca.
Newly Added Performers
Tricoter (British Columbia) — Share a special moment with your little one in a world filled with play, exploration and discovery. Tricoter is a joyous and stimulating short film for the youngest of audiences. In the spirit of a knitting circle, Tricoter softly draws the attention of the babies and toddlers. The dancer and yarn become the ever-changing and captivating shapes, sounds, movements and possibilities of the performance. As the dance and yarn wind and unwind through and around the space, a beautiful weaved conversation develops that connects the audience to the dancer. A delightful mix of colours, patterns, movement and texture, this intimate film is sure to capture the imagination and curiosity of babies. Ages 0–24 months.
Charlotte Diamond and the Hug Bug Band (British Columbia) – For over 30 years, this multi-award-winning musician and Order of Canada recipient has inspired children to sing, dance, care for each other, and celebrate Canada's cultures. One of BC's best-loved entertainers, Charlotte creates musical fun with her many catchy kids' classics including 'Four Hugs a Day", "I am a Pizza", "Octopus" (Slippery Fish), and "All the Nations Like Banana." Her music, as well as being lively and singable, inspires children and helps them celebrate the diversity of our cultural mosaic with songs like "Leave the World a Little Better." Charlotte's music is fun for kids, but parents and grandparents will be captivated by her music as well. Ages 1–7.
Future Music (British Columbia) — This is a showcase performance for the 11 dynamic and talented QT+BIPOC artists that took part in the FM Music residency program. We are thrilled to share these new, exciting voices with our audience! The program provided the chosen QT+BIPOC artists with integral artistic and business skills to bring their talents and wide range of offerings to BC's young audiences. Find out more about the artists below and watch them perform at the 2021 Vancouver International Children's Festival. All ages.
The Vancouver International Children's Festival Society and Rup Sidhu are the proud creators and producers of the inaugural FM: Future Music Mentorship Program presented in partnership with ArtStarts in Schools, Apparatus and the Sarah McLachlan School of Music.
This project is generously supported by Creative BC and the Province of British Columbia through the AMPLIFY BC industry Initiatives Program and the BC Arts Council.
Africa Day Closing Performance (BC / Canada with roots in Cameroon, Benin, Guinea, South Africa and Zimbabwe) — Come see Jacky Essombe, Yoro Noukoussi, Kurai Mubaiwa Aly Traoré, N'nato Camara and Munkie Ncapayi perform at this special showcase of traditional African music and dance. You'll be treated to demonstrations in South African drumming, traditional Shona music and songs and Guinean Doundoun dance. The performance celebrates not only the diversity of Africa but also the welcoming and communal essence of its music, songs and dances. Let's celebrate friendship across cultures together! This is the closing performance of Africa Day at the 2021 Vancouver International Children's Festival.
Storytelling by Jean Pierre Makosso (Pointe-Noire in Congo Brazzavile) — Traditional stories in Africa are meant to entertain children and adults while they learn important lessons about everyday life. Travel to Makosso's village – a place of stories that will capture your heart – and gather 'round as he spins stories and shares African fables with you. He will hold our community together and provide an opportunity for us to feel connected to each other even though we are physically distant. Let's listen to some stories and experience the warmth and joy of simply being together. All ages.
2021 Featured Performers
Bobs and LoLo (British Columbia) — Sing, dance and play with BC's favourite musical duo, Bobs & LoLo! These five-time JUNO nominated singer-songwriters and authors of the critically acclaimed children's book, Run Salmon Run are dedicated to connecting kids to nature with music, movement and make-believe. Their energetic and interactive performances take the young, and the young-at-heart, on musical adventures sure to have everyone on their feet and singing along before the first song is done. Ages 2–7.
When the Colours Ran Away (India) — While a Grade 3 class is on a field trip to the Art Gallery they notice something strange. An Emily Carr painting has empty shapes and missing blotches of colour, and on closer inspection they see: patches of green spilling out of the painting; yellow circles and blue squares fighting; the colour red hanging off the frame, ready to escape. Interestingly, no one from the gallery seems to notice anything out of the ordinary. Why are the colours so eager to leave the painting? It's up to the children to get to the bottom of the colours' behaviour and convince them to return. This interactive film uses live action and animation to tell a beautiful story about accessibility and equity in a fun and unique way. Commissioned by the Vancouver International Children's Festival. Ages 4 and up.
Shivers (France and United States) — Anis is about to become an older brother and worries about sharing his room, his toys, and his parents' love with his new sibling. Based on the widely acclaimed play Frissons, by Johanny Bert and Magali Mougel, Shivers is a digital adaption that tells Anis' story through the beautiful animated illustrations of Charlotte Melly. Join Anis as he anxiously meets his adoptive brother. Over time, they form a friendship, discover themselves and overcome their fears of one another. Don't miss this unique approach to storytelling that follows a young boy as he struggles to welcome his younger brother into his life. Ages 4 and up. Canadian premiere.
The Human Radio (British Columbia) — Imagine your child's delight when they realize that they're part of the show! The Human Radio is an interactive, live looping performance, using vocal percussion, rhythmic rhymes and an eclectic mix of instruments from around the globe. Through body percussion and beatboxing, Rup demonstrates and teaches how the body is indeed a musical instrument. Rup is a master at engaging kids from the opening beats until the end of the show. He uses his diverse skills as a musician to create a pulsating, entertaining and engaging musical experience. A fun and captivating way to explore the universal language of music, be sure to 'kick it freestyle' with RupLoops! Ages 2 and up.
Ideas Bobert (British Columbia) — What would you get if you mixed Ginger Rogers with Mr. Bean and the Muppet show?! It's Ideas Bobert! Award-winning creator Candice Roberts uses vintage silent film styling, shadow puppetry, stop motion animation projections, dance and live music to bring you a word-less show rich with magic and creativity. Join Bobert on his personal journey to find his true heart's desire. Will he learn the importance of listening to his own heart? A heart-warming and hilarious physical comedy that will delight the entire family! Ages 5 and up.
David Bouchard: Métis — des histoires, des flûtes, et plus…(British Columbia) — The world is a marvelous kaleidoscope of people with stories that are as unique as each and every one of us. Gifted storyteller and award-winning author, David Bouchard shares his Métis heritage through inspiring stories and touching flute music. David weaves history and traditions into engaging and vivid tales that provide a path for children to better understand Indigenous beliefs and culture. A small piece of Reconciliation and a beautiful expression of First Nation spirituality, history and culture, this show is sure to enrich and delight everyone. Ages 5 and up. French only.
Audioplay: The Turners (Australia) — Being a Turner is hectic, one minute you're hanging with your sister, the next you've been taken hostage by half-snake, half-human creatures. Leo and Abbie aren't ordinary kids, they're Turners, a secret species that morphs from human to animal and now they've found themselves at the centre of a global plot to annihilate their kind… Things are getting wild! Step into the center of an immersive audio experience based on Mick Elliott's book series. Using a smart phone and headphones, two players physically act out the story together, each guided by their character's rich audio score and unique instructions. Audioplay: The Turners is technology without the screens. It's an action-packed adventure that takes the imaginative, physical play that kids love and brings it to the next level by adding sound effects and cinematic score. Ages 6–12.
Once Upon a Tide (India) — You'll be swept away on a journey that follows eight hundred turtle siblings as they make their way to India to celebrate their Father's birthday. This large family of turtles are spread far and wide across the world. They must overcome great lengths and work together in order to all arrive at Velas in time for their Father's party. Will this turtle train be delayed, or will they arrive on time? Using animation, film and puppetry, Art Apart has created a layered and charming film that honours Diego, the real Giant Tortoise from the Galapagos who turned one hundred in 2020. In a breeding program, Diego was responsible for siring a whopping eight hundred offspring over his lifetime and has helped revive this endangered species. Ages 6 and up.
The Girl of Ink and Stars (Britain) — Be transported to the mythical island of Joya in this gripping audio drama, as you join Isabella and Pablo in the search for their missing friend. As they journey into unknown and forbidden areas of the island, they soon discover a fiery legend is stirring from its sleep. Based on the award-winning book by Kiran Millwood Hargrave, The Girl of Ink and Stars adapted by Satinder Chohan is a tale of maps, myths and the power of friendship magically brought to life through sound. All you need is a comfy chair and a big imagination for this fun and action-packed listening experience. Ages 7 and up.
One of a Kind (British Columbia) — Unique! Exceptional! One-of-a-Kind! FILM THEATRE HYBRID. There really is no one quite like you! One of a Kind is a series of stories performed by a talented, diverse group of extraordinary emerging storytellers. Each performer shares a one-of-a-kind tale from their childhood, filled with truths, cultural perspectives, challenges, laughs and adventures all accompanied by physical theatre, music and movement. Some performers even share parts of their story in their family's language. A fun and captivating way to explore the universal expression of storytelling, kids will recognize themselves in these stories and be inspired to share their own. Commissioned by the Vancouver International Children's Festival. Ages 7 and up.
A Piece of You (Scotland) — We all have a story to tell, what's yours? Imagine telling your story and then having it turned into a song! A Piece of You is a live intimate and interactive performance for children and their families; a private concert for just your household. Using the video conferencing tool Zoom, award-winning performance artist, cellist and composer Greg Sinclair will get to know you and your family. Like a musical portrait, Greg will transform your thoughts and feelings into your very own music score using colourful and expressive graphic notation. He then plays your music on his cello, in this unique performance all about you. Ages 7 and up.
Cris Derksen's Nerds Whirlwind Musical Tour (Cree Nation, Northern Alberta, Canada) — You had me at cello! Take a Nerd's Whirlwind Musical Tour with internationally respected Indigenous cellist, composer and big kid Cris Derksen where a "classical" instrument takes on a new life. She'll share with you how she creates her unique musical 'sound-print' that weaves her classical background and her ancestry together with electronics. Cris will introduce you to her cello, loop station and effects pedals as she creates and performs using the technology that surrounds her. Come join Cris for a fun and creative exploration of the magic of music. Ages 8 and up.
The Cat Came Back Tour (Manitoba) — Sing along with one of Canada's best-loved children's singers and four-time Juno winner Fred Penner at this year's Festival! Fred has been charming audiences for over 40 years with catchy songs that speak to the wonder of childhood, such as "The Cat Came Back" and "What a Day." Fred's award-winning music and meaningful lyrics have created a lasting impact that crosses generations. His warmth and enthusiasm give him an instant emotional connection with fans both young and old. Don't miss introducing your children to this Canadian music icon. All ages.
LOUD (BC / Canada with roots in Philippines, India, Jamaica, Taiwan and Ghana) — It's about to get loud as Immigrant Lessons hits the stage! They'll blow you away with their dynamite moves and dizzyingly fast footwork. Don't miss this high-energy extravaganza that highlights street dance forms such as; Dancehall, Hip Hop, Breaking, House and Jazz. LOUD, is a celebration of the music, dance, and cultural gifts that are often created out of oppression and when different cultures collide. You'll be moved in more ways than one as you watch this collective of talented professional artists showcase their skills and love of dance. Get ready to turn it up with LOUD! Commissioned by the Vancouver International Children's Festival. All ages.
Africa Oyé (BC / Canada with roots in Cameroon, Benin, Guinea, South Africa and Zimbabwe) — There's going to be a dance party and you're invited! Africa Oyé features songs, music, and dances from Cameroon, Benin, Guinea, South Africa and Zimbabwe. Come celebrate this beautiful expression of African culture with the talented Jacky Essombe, accompanied by her friends. Jacky's lively dancing will inspire you to move your body as you feel the rhythm of music played on a variety of traditional African instruments, including the djembe, donga (talking drum), mbira, shekere and more. Audience participation is encouraged throughout the show in the form of call-and-response, singing, clapping and dancing. We can guarantee that by the end of the show you will be up and on your feet! All ages. French only.
DJ Dance Party (British Columbia) — Nothing beats a good dance party to lift spirits and get hearts pumping. Turn it up and get ready to boogie with DJ Michael Fraser and the Instrvnged's dancers. Instrvnged is a group of local dancers and flow artists, who love to share their passion for music and movement. The way their expressive dancing embodies the emotion of the music together with Michael's combination of violin and DJ performance are sure to make the whole family want to get up and dance. Michael's style inspires a new generation of creative minds by mashing up genres of music from the past and the present to create a melting pot of music, culture and experience that both parents and kids will love. Shake more than your sillies out at this interactive dance party for kids and their families. All ages.
The Vancouver International Children's Festival gratefully acknowledges the following for their generous support: The Government of Canada, BC Arts Council, City of Vancouver Cultural Services, Canada Council for the Arts, Creative BC and the Province of BC through the AMPLIFY BC industry Initiatives Program, Metro Vancouver and BC Gaming, CMHC Granville Island, Y.P Heung Foundation, RBC Foundation, the Vancouver Fraser Port Authority proudly representing the Port of Vancouver, Amacon, Sun Life Financial, Diamond Foundation, Pattison Outdoor, Squamish Nation, Moonrider Productions, City TV, Omni, Stir Arts & Culture Vancouver, VancouverMom.ca and Fairchild Media Group.
About the Vancouver International Children's Festival
The longest running professional performing arts festival for young audiences and the first of its kind in North America and Europe, the Vancouver International Children's Festival presents the world's finest music, theatre, dance, puppetry, acrobatics and storytelling, as well as creative arts activities for the entire family. Families come from near and far to experience this extraordinary annual arts festival created specifically for children and families. We are dedicated to providing creative, diverse programming that engages and delights our young audience.
-30-
Media interview requests please contact:
Joanne Da Silva | Communications Manager
Vancouver International Children's Festival
e: marketing@childrensfestival.ca
t: 604.708.5655