Ignite Your Child's Playful Joy
Ignite Your Child's Playful Joy at the Vancouver International Children's Festival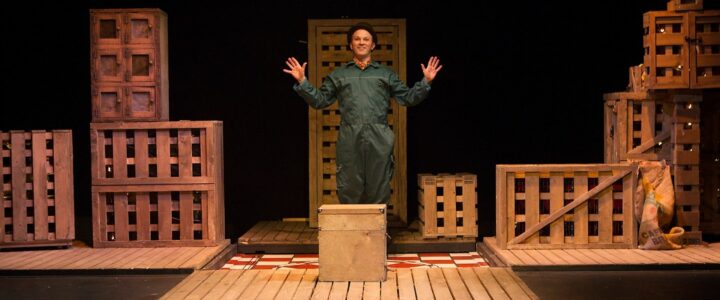 Vancouver, BC (April 28, 2022) – After a two year in-person hiatus, the 45th annual Vancouver International Children's Festival returns In-person from May 31 – June 5 on Granville Island and May 31 – June 12 Online. Once again, world-class theatre, music, dance, circus, puppetry and storytelling performers will entertain Vancouver children and families. This year, eighteen professional performing artists from as far-reaching as Denmark, Ireland and the United Kingdom are scheduled to perform 80 shows.
"We are elated to welcome back children and families in-person to the 45th annual Vancouver International," exclaims Katharine Carol, Artistic and Executive Director. "Our lives have irrevocably changed over the past two years and during this time, we've seen the importance the arts have to transform lives. The Festival is a place to celebrate multi-disciplinary arts that engage, entertain and open us all up to the joy of artistic expression. This year's Festival offers a feast of amazing shows and interactive visual arts activities that invite children and families to ignite their playful joy."
Highlights of this year's Festival include Juno Award-Winner Fred Penner, Indigenous dance artists Dancers of Damelahamid and African circus stars Kalabanté.
Tickets are on sale now and can be purchased online at ChildrensFestival.ca, or during the Festival at our on-site box office located between Festival House and the Waterfront Theatre on Granville Island.
In-person Tickets start at $12.50 per child/senior and $22 per adult plus service charges and tax. All passes include an Activity Village wristband. With over 15 arts activities, the Activity Village offers many ways to engage your imagination and enhance your creativity all while having fun together as a family. Each In-person performance pass includes an Activity Village wristband.
Online Tickets can be purchased for $24 per household, plus service charges and tax. Families can watch one Vancouver International Children's Festival Online Performance for only $24 per show. The pre-recorded online performance is available starting from Tuesday, May 31 at 9:30am until Sunday, June 12th at 8pm and can be watched multiple times. Online tickets also include access to two Online Arts Workshops.
2022 FEATURED PERFORMERS

IN-PERSON PERFORMERS
Tricoter (Foolish Operations, British Columbia) – Share a special moment with your little one in a world filled with play, exploration and discovery. Tricoter is a joyous and stimulating encounter for the youngest of audiences. In the spirit of a knitting circle, Tricoter softly draws the attention of the babies and toddlers. The dancer and yarn become the ever-changing and captivating shapes, sounds, movements and possibilities of the performance. As the dance and yarn wind and unwind through and around the space, a beautiful weaved conversation develops that connects the audience to the dancer. A delightful mix of colours, patterns, movement and texture, this intimate show is sure to capture the imagination and curiosity of babies. Tricoter will be followed by a "stay and play" activity. Ages 0–24 months.
The Cat Came Back (Fred Penner, Manitoba) – Sing along with one of Canada's best-loved children's singers and four-time Juno winner Fred Penner at this year's Festival! Fred has been charming audiences for over 40 years with catchy songs that speak to the wonder of childhood, such as "The Cat Came Back" and "What a Day." Fred's award-winning music and meaningful lyrics have created a lasting impact that crosses generations. His warmth and enthusiasm give him an instant emotional connection with fans both young and old. Don't miss introducing your children to this Canadian music icon. All ages.
Ginalina (British Columbia) – Dance and sing along in English, French and Mandarin with CBC-featured musician and 3x Juno nominated artist, Ginalina! A bright star in the family folk music world, Ginalina weaves the audience together with warm, upbeat and folky songs inspired by the love of family, beauty of the west coast and value of every child. Take a musical journey with Ginalina and special guests including accordionists, friends, family and traditional instrumentalists from the Vancouver Chinese Music Ensemble! There's much to enjoy in her collection of songs that celebrate timeless messages of hope, acceptance, and strength through kindness. Ages 3–9. Relaxed Performance.
Crisis on Planet Z! (Monster Theatre, British Columbia) – Zennifer lives on Planet Z, the only planet they have ever known. The Alphabetians are celebrating 100 years of being on Planet Z when Zennifer makes a horrifying discovery: they haven't been 'improving' the planet, they have been slowly destroying it! With the help of a baby Ziffle… and a mushroom, Zennifer tries to warn the Alphabetians to change their ways, but they are ready to abandon Planet Z and blast off to the next planet. Little do they know, there is no next planet: Planet Z is the last planet in their solar system! Together, the Alphabetians must account for their actions and find a way to save Planet Z. A hilarious play about a serious topic, Crisis on Planet Z expertly manages to raise awareness about climate change through joy and fun. Ages 4–12.
One of a Kind (British Columbia) – The world is a spectacular kaleidoscope of people with fascinating stories as unique as every one of us. One of a Kind is created around the true stories performed by the people who lived them; a talented, diverse group of extraordinary emerging theatre artists. The storytellers share their one-of-a-kind childhood tales filled with truth, cultural perspective, family languages, challenge, laughter and adventure. Using physical theatre, puppetry, music, movement and more, they offer an extraordinary exploration of the universal expression of storytelling. Children will recognize themselves and be inspired to share their own stories. Commissioned by the Vancouver International Children's Festival. Ages 7 and up.
A Story of a House That Turned into a Dot (Teatret Gruppe 38, Denmark) – Life is sweet, it's finally summer and today is a special day because it's strawberry day. But sometimes life can be unfair, especially when things don't go your way. After being treated unfairly, the girl gets mad and decides to run away from home. She opens the window, climbs down the ladder and keeps running. And when she finally looks back, the house to her amazement has turned into a dot! A captivating adventure about how long the road home is when you run away in anger. You will enjoy this delightful tale about fairness and family, beautifully told through shadow puppetry, masks and music by the renowned Danish company Teatret Gruppe 38. Ages 8 and up.
Won-Ma Africa (Kalabanté Productions, Guinea / Quebec) – You'll be blown away by the breathtaking acrobatics and death-defying feats of Won'Ma Africa! Kalabanté Productions' handful of daring acrobats perform to the pulsating rhythm of the djembes of Guinea with authentic movement and acrobatics. Come experience a mix of modern circus and traditional African dance and music including drums, Kora and singing that come to together in a spectacular show of stunts and tricks. This entertaining show embodies the strength, agility and joy of life found in African youth. Their joie de vivre is so infectious that afterwards you'll backflip out of the theatre! All ages.
Living With (Her Tribal Roots, British Columbia) — Let's groove together! Living With is a multi-layered performance that explores the interconnections between people and our relationship to the earth. Through the thoughtful storytelling, harmonizing, dancing and drumming of the Her Tribal Roots' artists, we can reimagine how we interact with one another and with nature. Living With is a true mosaic where different dance styles, music, poetry and cultures come together to create a beautiful expression of how we can all live with one another. Don't miss this opportunity to feel the rhythm, connection and joy that is all around us. Kids will be inspired in more ways than one. Commissioned by the Vancouver International Children's Festival. All ages.
Parents Are Still a Drag (Zee Zee Theatre, British Columbia) – After its overwhelming debut at the 2019 Vancouver International Children's Festival, Parents Are A Drag is reborn with a much bigger kid. Join local drag queens Peach Cobblah & Isolde N. Barron for a drag dress-up spectacular! Add some rainbow to your day at this fun and inclusive event which reminds young ones, their parents, caregivers and everyone in between that it's never too early (or too late!) to get silly and dress-up! Parents are Still a Drag celebrates diversity with songs, laughter and play. With opportunities for the audience to become part of the show, be sure to come dressed to impress or ready for some dress-up time. Commissioned by the Vancouver International Children's Festival. All ages.
Africa Oyé (British Columbia with roots in Cameroon, Benin, Guinea, South Africa and Zimbabwe) – There's going to be a dance party and you're invited! Africa Oyé features songs, music, and dances from Cameroon, Benin, Guinea, South Africa and Zimbabwe. Come celebrate this beautiful expression of African culture with the talented Jacky Essombe, accompanied by her friends. Jacky's lively dancing will inspire you to move your body as you feel the rhythm of music played on a variety of traditional African instruments, including the djembe, donga (talking drum), mbira, shekere and more. Audience participation is encouraged throughout the show in the form of call-and-response, singing, clapping and dancing. We can guarantee that by the end of the show you will be up and on your feet! All ages.
Future Music (British Columbia) – A showcase performance for the 6 dynamic and talented QT+BIPOC artists that took part in the 2021 FM Music residency program. Come out and join them as they share their new songs and creativity with you bringing you stories from their lives that inspire and entertain. We are thrilled to share these new, exciting voices with you, our audience! All ages.
Underwater Archeologist (Boca del Lupo, British Columbia) – Imagine, 150 years in the future. Climate change has been solved and we live together in a world as one nation. The study of archeology has turned to exploring the ocean's depths in an effort to better understand the carelessness of the early millennium. Amongst the junk and ancient treasure, one archeologist discovers two people who have been hiding in an underwater bunker for over 60 years. Grab a VR headset and dive into this immersive, hopeful comedy that is part performance, part virtual reality and explore deep underwater and far into the future. Ages 9–12.
Forgotten Folk Songs Workshop (Ginalina, British Columbia) — Enjoy the beauty and meaning of the Mandarin language in this Family Folk workshop, and learn a treasured 18th century Chinese folk tune! Blending melody, movement, context, and a playful approach, Juno-nominated Singer-Songwriter, Ginalina, will introduce families of all ages to the song, Mò Lì Huā ("Jasmine Flower"). Also featured in this workshop are two masterful guests from the Vancouver Chinese Music Ensemble: multi-instrumentalist, Jirong Huang on the Erhu (Chinese Fiddle) and professional soloist, Sarah Yusha Tan on Guzheng (Chinese Plucked Zither). A fun and interactive way to explore intriguing new sounds, stories and sing-alongs from a different land. A lyrics card will be available for children and participants to take home. Ages 4–12.
The Wild and Wonderful West Coast Workshop (Ginalina, British Columbia) – Calling all West Coast Kids and nature lovers! Did you know that British Columbia is home to the richest diversity of plants, trees, mammals and birds? Discover more with Juno-nominated Singer-Songwriter, and Canadian Children's Book Week Author, Ginalina. In this hands-on music and book-inspired workshop, families will explore some of the flying, swimming, running, and crawling creatures that call our backyards home – get ready to hoot like a Horned Owl, splash like a Sculpin Fish, burrow like a Badger, and grow tall like a Western Red Cedar! Together, we will also experience what eco-diversity is, why it is vital, and how young people today are helping to protect the environment! A Take-Home Package will be available for every participant. Ages 4–12.
BOTH IN-PERSON AND ONLINE PERFORMERS
Spirit and Tradition (Dancers of Damelahamid, Gitxsan/Cree, British Columbia) – You'll be captivated by this visual feast of a show! Spirit and Tradition layers projected imagery, soundscape and Coastal masked dance, transporting the audience to the rich and diverse ecosystem of British Columbia's coastal mountains and Pacific Ocean. Spirit and Tradition focuses on Indigenous knowledge, sustainability, interconnectedness and the beauty of the Northwest Coast. Through dramatic dance, compelling narrative, intricately carved masks and elaborate regalia, the Dancers of Damelahamid transform time and space and bridge the ancient with a living tradition. Don't miss this stunning expression of Indigenous spirituality, community and culture. True poetry in motion. Ages 5 and up.
ONLINE PERFORMERS
Anansi The Spider Re-spun (Unicorn Theatre, United Kingdom) – People say that a long, long time ago, animals walked on two feet and spoke with words, like we do. And back then it was known by everyone that the cleverest of all the animals in the kingdom was a spider – the infamous Anansi – the original trickster and the master spinner of yarns. But sometimes Anansi could be a little too clever for his own good…Inspired by the 2019 five-star hit show, Anansi the Spider, these classic West African and Caribbean tales are expertly brought to life online by the Unicorn Theatre. A thoroughly enjoyable three-part series where Anansi tricks, sings and dances his way out of trouble and often right back into it. Ages 3–8.
The Girl Who Forgot to Sing Badly (Theatre Lovett, Ireland) – Sometimes it takes a girl-sized human to solve an adult-sized problem… Peggy O'Hegarty and her parents are packers. They squeeze fruit into tins, foxes into boxes, even bikes into brown paper bags. And then one day, work stops working, and the jobs stop jobbing and Peggy steps outside to find that winter has arrived…and everyone in her city has vanished! Get ready for a story literally packed full of fun and suspense. Louis Lovett ingeniously performs all the characters as he takes the audience on an untamed adventure. The story unfolds through the transformation of the set's large whimsical crate, in which props and whole worlds are packed. As Peggy desperately tries to save the day, we learn about love, loss, the reassurance of goats and that we should all have the courage to sing gloriously on or off-key! Ages 7 and up.
Project Element (British Columbia) – Through improvisation and imaginative devising the elementary and secondary students from Smithers, BC, have created a contemporary retelling of classic Norwegian folklore. The film follows a group of children who must travel through magical worlds to find their friend, the Prince, who has been captured by the evil Troll Princess. Will the gifts from the mystical creatures of the lands be enough to help them on their quest? Under the creative direction of Susan Bertoia, this project which focuses on the methods of collaboration and intergenerational storytelling was commissioned by the Vancouver International Children's Festival. Ages 9 and up.
The Vancouver International Children's Festival gratefully acknowledges the following for their generous support: The City of Vancouver Cultural Services, the BC Arts Council, BC Gaming, the Government of Canada, Canada Council for the Arts, CMHC Granville Island, the Vancouver Fraser Port Authority proudly representing the Port of Vancouver, RBC Foundation, Metro Vancouver, Amacon, Fortis BC, Diamond Foundation, Pattison Outdoor, Squamish Nation, Lamar Transit Advertising, Moonrider Productions, City TV, Omni, Stir Arts & Culture Vancouver, Vancouver is Awesome, VancouverMom.ca and Fairchild Media Group.
About the Vancouver international children's festival

The longest running professional performing arts festival for young audiences and the first of its kind in North America and Europe, the Vancouver International Children's Festival presents the world's finest music, theatre, dance, puppetry, acrobatics and storytelling, as well as creative arts activities for the entire family. Families come from near and far to experience this extraordinary annual arts festival created specifically for children and families. We are dedicated to providing creative, diverse programming that engages and delights our young audience.
Media interview requests please contact:
Joanne Da Silva | Communications Manager
Vancouver International Children's Festival
e: marketing@childrensfestival.ca
t: 604.708.5655