Charlotte Diamond: A Wonderful Part of Our Festival for Over 26 Years
November 19, 2013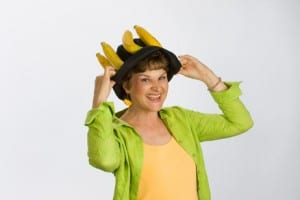 Beloved local performer Charlotte Diamond , put on her first show with the Vancouver Children?s Festival in 1987, and has performed a total of 19 times with us
since! Charlotte was born and raised on the West Coast of British Columbia and continues to live in Richmond, B.C. Always having a passion for music, Charlotte began to focus on family music when she
had her own children. This eventually led to her developing a preschool music program which blossomed into her putting on workshops, school concerts and a variety of family shows. To date, Charlotte
has thirteen recordings, many awards (including a Juno), and continues to tour internationally. She has provided us with timeless songs such as ?Four Hugs a Day? and ?Octopus (Slippery Fish)?.
Charlotte, along with her Hug Bug Band, always produces an engaging and captivating show!
We are very pleased to feature Charlotte in our upcoming Special Holiday Concert on December 8th where she will also launch her new Children?s board book ?Slippery Fish in Hawai?i?. Our Holiday
Concert will also include a special performance byPerry Ehrlich?s ShowStoppers Youth Choir .
Tickets are $25 including GST and service charges. The doors will open at 10am and the show begins at 11am. Don?t miss what is sure to be an incredible performance! Tickets are an already on sale!
Clickhere  for further Holiday Concert details and ticket purchasing information.