CFMA and VICF Announce Children and Family Music Showcase
CFMA and VICF Announce Children and Family Music Showcase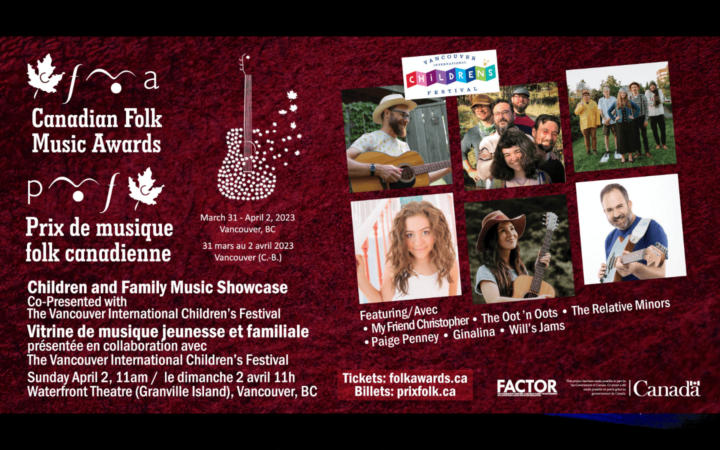 The CFMAs are thrilled to announce the lineup for the Family Folk, Children and Family Music Showcase Concert, Co-Presented with The Vancouver International Children's Festival, on Sunday April 2 at 11:00 AM at the Waterfront Theatre (Granville Island). Families are encouraged to attend to hear some of the best music being produced for children in Canada today. Hosted by Jocelyne Baribeau and My Friend Christopher, featuring CFMA nominee performers, this showcase is part of the CFMA Awards Weekend, which takes place March 31 – April 2, 2023 in Vancouver, B.C. Tickets are $15 (all in), and children under 3 are free, purchase here.
Family Folk - Children and Family Music Showcase Concert, Featuring CFMA Nominee Performers and 2023 VICF Performers:
The Relative Minors is a rock band for kids. The project began in 2011 when Matt and Kier Robertshaw—a couple of fun-loving musicians and educators—started writing children's songs and staging performances in local libraries. Today, they're a full rock band, offering a fresh take on the genre by combining clever lyrics with sophisticated instrumentation and an enduring respect for their audience.
Take a wonderful multilingual musical journey themed on the value of every child and the small but mighty roles we play every day. Sing, dance, and be part of the musical wonders of Accordion, Guitar, Ukulele, Percussion, Erhu, and Zither, alongside Ginalina with Friends and Guests from the Vancouver Chinese Music Ensemble.
Paige Penney is a 17 year old singer songwriter, multi-instrumentalist, from St.John's, Newfoundland. Paige received two Canadian Folk Music Award nominations, MusicNL Award nominations, Winner-MusicNL Newfound Talent Contest and the Arts and Letters awards.
Will Stroet of Will's Jams is a JUNO-nominated musician, nationally recognized educator and former CBC Kids TV star. His high-energy rock-pop music in English and French is full of witty wordplay and sing-along choruses, inspiring kids to be active, creative, caring and community-minded.
The Oot n' Oots is a family that makes music for families. The band includes 15-year-old Ruthie Cipes with her dad Ez and uncles Ari, Gabe, and Matthew, all living in Kelowna, Canada.The Oot n' Oots released their third album, Ponderosa Bunchgrass and the Golden Rule, on October 15, 2021. It was nominated for "Children's Album of the Year" at the 2022 Juno Awards.
The 18th Edition of the Canadian Folk Music Awards takes place in Vancouver, BC, celebrating folk music across Canada. Tickets to all Awards Concerts, Nominee Showcase Concerts, BC Performer Showcase and Film Screening are on sale now. Visit the CFMA website to purchase and/or view the performers and Awards schedule, or to volunteer.
The Official CFMA Awards Concerts will be held Saturday, April 1 and Sunday, April 2 (6:00–8:30 pm PT) at the Mel Lehan Hall at St James Community Square, with the assistance of the Rogue Folk Club. Hosted by Chelsey June (Twin Flames) and Benoit Bourque, the bilingual CFMA 2023 Award Concerts will present a total of 20 awards" including the Slaight Music Unsung Hero Award, over the course of two nights, as well as performances by an exciting and diverse selection of 10 of this year's nominees from across the nation.
During the week, CFMA Nominee Showcase Concerts will feature 2023 nominated performers — a Traditional Music Showcase, Songwriters Showcase and the Children and Family Music Showcase. Each showcase features six performers. Tickets sales to all CFMA events are on sale now, visit to purchase.
The CFMA Official Awards Concerts and Additional Nominee Showcases take place between March 31st through April 2nd at the Mel Lehan Hall at St James Community Square. Full list of events during the 2023 CFMAs can be found on our EVENT PAGE.
The CFMAs gratefully acknowledge the financial funding support of FACTOR through the Government of Canada and Canada's private radio broadcasters.
We also wish to thank and acknowledge all of our funders: Government of Canada — Ministry of Canadian Heritage, SOCAN, The Oliver Schroer Estate (Peter Coffman), the Edmonton Folk Festival, Fogarty's Cove Music, Calgary Folk Club, SOCAN Foundation, True North Records / Stony Plain Rights Management, Slaight Music, Borealis Records, Music PEI, and Wavelength Media.
About the Vancouver International Children's Festival (VICF):
The longest running professional performing arts festival for young audiences and the first of its kind in North America and Europe, the Vancouver International Children's Festival presents the world's finest music, theatre, dance, puppetry, acrobatics and storytelling, as well as creative arts activities for the entire family. Families come from near and far to experience this extraordinary annual arts festival created specifically for children and families. We are dedicated to providing creative, diverse programming that engages and delights our young audience.
About the Canadian Folk Music Awards (CFMAs):
Established in 2005 as a non-profit, the Canadian Folk Music Awards celebrate the breadth and depth of folk music in Canada in all its forms. Each year, the Canadian Folk Music Awards are held in a different province, showcasing the vast array of talent the country has to offer. For the 18th edition, the CFMAs are presenting Awards Weekend events, March 31 — April 2, 2023 in Vancouver, BC. These events capture the true heart of the folk community while celebrating the nominees and category recipients. To stay up to date, follow CFMA social media accounts and subscribe to our newsletter.
Our official hashtag is → #CFMA2023 and #PMFC2023
CFMA website →folkawards.ca
Listen to CFMA 2023 nominees Spotify playlist → https://spoti.fi/3WIi81R
Media Contact: Kimberly Sinclair, CFMA kimberly@spincount.com (902) 350‑3968