Won'Ma Africa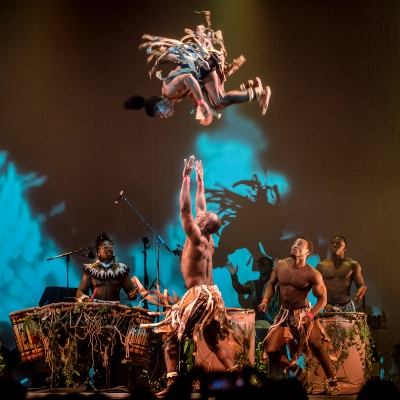 You'll be blown away by the breathtaking acrobatics and death-defying feats of Won'Ma Africa! Kalabanté Productions' handful of daring acrobats perform to the pulsating rhythm of the djembes of Guinea with authentic movement and acrobatics. Come experience a mix of modern circus and traditional African dance and music including drums, Kora and singing that come to together in a spectacular show of stunts and tricks. This entertaining show embodies the strength, agility and joy of life found in African youth. Their joie de vivre is so infectious that afterwards you'll backflip out of the theatre! Watch a video of Won'Ma below!
Producing Company: Kalabanté Productions
Country of Origin: Guinea / QC / Canada
Genre: Circus
Show length: 50 minutes
Ages: All ages (Grades: K-12)
Venue: Granville Island Stage
Curriculum Connections:
— Arts Education: Dance, music
– English Language Arts: Literature, poetry
– Social Studies: Cultural studies, cultural perspectives, diversity and inclusion
– Physical and Health Education: Fitness
– Science: Physics
A live music experience is much louder and very different than hearing recorded songs at home. While all ages are welcome, a loud concert, singalong or drumming may be frightening to some. Please use your own discretion when making your show selection.
Ways to Watch & Listen
In-person

Watch a live performance at the venue.
Show Times
In-person
Ticket Information
Schools 
 In-Person

1 Show Pass: $11+GST/ticket (valid until April 14)
2 Show Pass: $20+GST/ticket (valid until April 14)
 Online

$120+GST per class, per show