5 Screen-Free Family Activities on Granville Island
5 Screen-Free Family Activities on Granville Island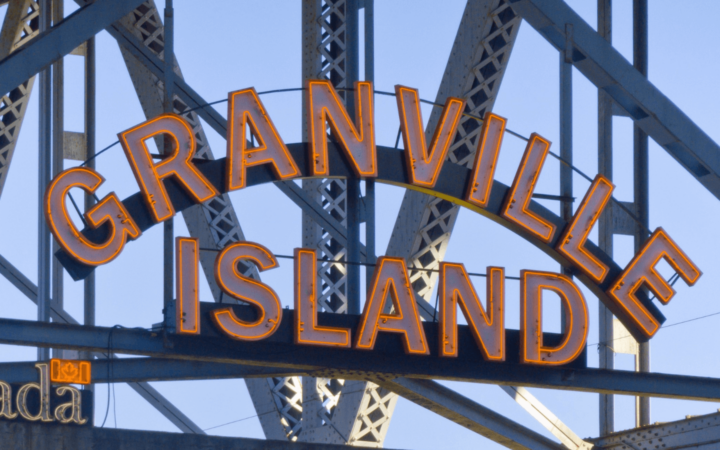 Come explore Granville Island with your family! This must-see Vancouver destination is not just for adults. The Vancouver International Children's Festival takes place each year on Granville Island and brings together families to celebrate the joy and wonder of childhood. With so much to see and do, it's the perfect opportunity to unplug and enjoy some quality time together. Did you know that Granville Island has many other interesting things for families to see and do? In this post, we showcase five screen-free activities for your family to enjoy on Granville Island.
Kids market
With a diverse range of more than 25 shops, entertainment options and services, there's something for everyone. Explore the charming, locally owned and operated stores, each offering a carefully curated selection of unique products just for kids. In addition to shopping, Kids Market also offers some great, one-of-a-kind experiences such as the Adventure Zone and the Arcade.
Let Loose in the Adventure Zone
For families seeking to burn some energy, the Adventure Zone is the place to be. This indoor play area is filled with exciting activities that will keep your children entertained for hours. Experience non-stop fun at the Adventure Zone — hidden amongst the shops and games on the upper floor of Kids Market!
This indoor playground offers a range of entertaining options. Dive into the ball pit, glide down winding slides or hang-out in the jungle gym. The area is a supervised environment, providing a secure space for your little ones to play.
Feeling competitive? Classic games like Skee-Ball, Basketball and Whack A Frog are waiting for you and your family at the Granville Island Arcade! Play games, win tickets and then claim your prize from the Adventure Zone Prize Counter and take home a fun souvenir!
Take in A Scenic ferry tour!
Take a break from the hustle and bustle within the walls of Kids Market and head outdoors to enjoy the island's natural beauty. Hop on a False Creek Ferry for a scenic ride through False Creek and admire breathtaking views of the city skyline and surrounding mountains.
Have fun at the playground and Waterpark
No family outing is complete without a visit to Sutcliffe Park. Let your kids climb, slide and swing to their heart's content at the park's popular playground. It's a wonderful place for children to burn-off energy and make new friends.
Afterwards, make your way to the Waterpark, where kids can splash around in fountains, streams and sprays. It's a fantastic way to cool off on a warm day, and there's even a waterslide and on-site lifeguards during the summer season.
During the week of the Festival, Sutcliffe Park becomes the site of the Festival's Activity Village and comes alive with the sights and sounds of children igniting their playful joy. The welcoming atmosphere of the Activity Village invites families to relax, be silly and enjoy some time together. With over 15 arts activities, the Activity Village provides many ways to engage your child's imagination and creativity all while having fun together as a family. Your show ticket includes access to all these wonderful activities. Get your face-painted, learn how to juggle, grab a snack, or simply enjoy the festival atmosphere together.
Don't Forget Lunch at the PUblic Market
After all the excitement, you'll undoubtedly work up an appetite. Head over to the Granville Island Public Market, where you can indulge in a wide array of delicious food options. From freshly caught seafood to artisanal baked goods and international cuisine, there's something to satisfy every palate. Take a break, sit down as a family, and enjoy a leisurely lunch together while enjoying the lively ambiance of the Public Market.
Granville Island is the perfect destination for families seeking screen-free fun. There's definitely no shortage of activities to keep your family entertained at Granville Island. Have fun!