13 face painting tips and tricks
13 face painting tips and tricks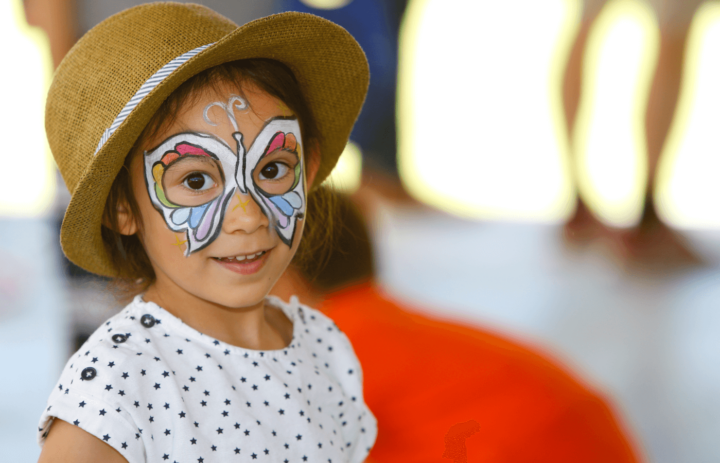 Each year at the Vancouver International Children's Festival we paint the faces of thousands of children. Take into account that the Festival has been around for over 45 years and that adds up to a lot of faces! With all that experience, you might say that we're experts on the subject! It's definitely one of the most popular activities in our Activity Village.
With Halloween just around the corner and costume requests probably changing on a daily basis, it helps to get some basic face painting tips so that you can roll with the punches and be prepared for anything!
Face painting can seem daunting to the uninitiated but if you follow these simple face painting tips and tricks you'll be painting like the pros. We've enlisted the help of our Face Painting Coordinator and Face Painter Extraordinaire, Dori Luthy-Harrison to help send you off on a fantastic face painting Halloween adventure! Check out these easy tips and tricks to get you started:
1. Use water colour crayons
While water colour crayons aren't technically for face painting, they work great, are hypoallergenic and are non-toxic. Also, water colour crayon creations last longer than regular face paint designs and produce highly saturated, amazing colour results. They are also more versatile, as they can be used directly on the face or with brushes. We recommend Neocolor brand which can be purchased for around $2 a crayon or $12 for a box.
2. Don't cheap out
If you can help it, don't buy cheap waxy face paints from the dollar store. Invest a few more dollars and purchase proper face paints or water colour crayons at an art supply store, you won't regret it! The colour is better and they last longer. Also, cheap face paints linger on the face with hues sometimes lasting for days after Halloween (especially red and green). So if your child wants to be the Incredible Hulk this year, make sure to purchase quality face paints or they may look a little green around the gills for a while.
3. Use brushes
Brushes allow for greater control and allow you to use as much or as little colour needed. Clean up is easier too. Simply clean the brush with alcohol when finished or when using another colour.
4. Get help
There's no shame in asking for help. There are lots of great video tutorials online that can help you with specific looks and techniques. For example, if your child is requesting to be Iron Man for Halloween, a Google search using the words 'ironman, face painting and simple' is a good place to start.
5. Brush strokes are okay
Sometimes people feel the need to blend face paint colours but sometimes seeing the brush strokes of paint actually enhances the design. Brush strokes can give pattern and texture for elements such as fur or butterfly wings.
6. Stick with human-like animals
Changing the species of your child via face paints can be very fun. Animals with a similar face shape to humans are the easiest to design such as cats, rabbits, dogs, monkeys, lions, tigers and bears…oh my!
7. Less is more
Choosing 2 or 3 main colours creates a more impactful design.
8. Don't be afraid of black
Start with lighter colour face paints and work your way to dark. At the end, use a little bit of thin black line work to outline eyes, muzzles and wings. Even adding a small amount of black will make your design pop and further enhance it.
9. Things to avoid
Avoid adding paint around the mouth and lips. Water based paints will just wash off around that area. Instead, use lipstick or for an interesting look inside the mouth, use coloured candies like green or red lollipops to 'paint' the inside of the mouth and lips.
When working with younger kids avoid painting around the eyes.
Adding glitter can be fun, but some children are sensitive to the shine. Instead, use white face paint and paint small 8 point stars for a similar and impactful look. Besides, using white face paint instead of sparkles is a lot less messy!
10. Work with mistakes
At the Festival, when a mistake happens we don't have the liberty of washing faces and starting over. Our team of face painters must adapt and work with the mistake. Using our artistic license we get creative and incorporate the hiccup into the design. We find that mistakes can turn into happy accidents that can actually work in your favour. If a slip-up happens, a new design version or technique might be discovered. With that said, if a mistake does happen, you can always wash your child's face and start over but we recommend getting creative and exploring new possibilities.
11. Don't wash the face
Before starting, don't wash your child's face. The natural oils on the face will actually help the face paint stay in place. But, obviously if your child still has breakfast coated on their face you'll need to wipe and wash their face before applying the face paint.
12. Remove with coconut oil
Use warm soapy water and coconut oil to remove face paint. Oil adheres to oil and lifts the paint right off for an easy, natural way to remove the face paint.
13. And lastly, get creative and have fun!
The sky is the limit! Don't be afraid to try something new or different or paint on unexpected parts of the face. For example painting on the eyelids can bring a whole new element to your design. Whatever you do, have fun with it!