Variety Show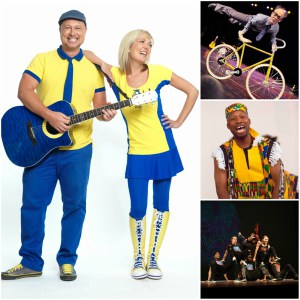 Watch Festival performers cut loose at our annual Variety Show! This year's tour de force, hosted by none other than Splash'N Boots, features the zany circus antics of Les Parfaits Inconnus, a  feast of traditional songs, stories and athletic dance from Masabo, a high energy and uplifting dance extravaganza from the I.aM.mE Dance Crew, a spectacular hoop dance from the Indigenous dancers of Nimihitowin!, plus toe-tapping, sing along tunes from beloved favourites Splash'N Boots! This fun-filled evening is always a highlight for kids and adults alike.

Genre: Music, Circus, Storytelling and Dance
Show length: 90 minutes!
Age: All ages!



Venue: Granville Island Stage
Show Times
Saturday, June 2, 2018
6:30 pm — 8:00 pm Granville Island Stage
Tickets
One Show Day Pass: $22.00 per adult; $19 per child + GST and s/c
More info on ticket pricing