Africa Oyé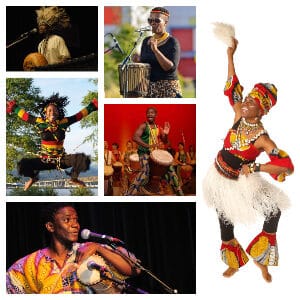 C'est la fête et vous êtes invité ! Africa Oyé présente chansons, musique et dances du Cameroun, du Bénin, de la Guinée, de l'Afrique du Sud et du Zimbabwe.  Venez célébrer l'expression de la culture africaine avec la talentueuse Jacky Essombé et ses amis. Laissez vous guider par le chant, les pas et les gestes de Jacky aux sons et rythmes d'instruments traditionnels d'Afrique : djembe, ldonga, mbira, et shekere. Le public est encouragé à participer aux techniques rhytmiques de chants et de percussions corporelles. C'est sûr qu'avant la fin du spectacle tout le monde sera debout en rythme avec les artistes !
There's going to be a dance party and you're invited! Africa Oyé features songs, music, and dances from Cameroon, Benin, Guinea, South Africa and Zimbabwe. Come celebrate this beautiful expression of African culture with the talented Jacky Essombe, accompanied by her friends. Jacky's lively dancing will inspire you to move your body as you feel the rhythm of music played on a variety of traditional African instruments, including the djembe, donga (talking drum), mbira, shekere and more. Audience participation is encouraged throughout the show in the form of call-and-response, singing, clapping and dancing. We can guarantee that by the end of the show you will be up and on your feet! Watch a video below!
Performers: Jacky Essombe and friends
Country: BC / Canada (with roots in Cameroon, Benin, Guinea, South Africa and Zimbabwe)
Genre: Music/Dance
Show length: 50 minutes
Ages: All Ages (Grades K-12)
Ways to Watch & Listen
Live Online Plus

Watch a live performance at home PLUS access the recorded performance from 9 am the day after.

Pre-recorded Online

Watch a pre-recorded online performance at home. Available until Sunday, June 13th at 8pm. Closed Captioning available.
Show Times
Live online plus
Thursday, June 3
Live online plus

tickets

1:30 – 2:20 pm (en français)
Pre-recorded video (en français)
Available starting
Watch until
Pre-recorded video

tickets

Friday, June 4 at 9:00 am
8:00 pm on Sunday, June 13
Buy tickets
Ticket Information
Public 
We absolutely LOVED the performance. Jacky and her musicians were extremely entertaining and responded to and interacted with the students extremely well.

~ Michael A., Teacher
We loved the performance!!! It was well structured, energetic, informative, interactive and so joyful.

~ Audience Member