Gift Certificate – Christmas Gift
December 05, 2017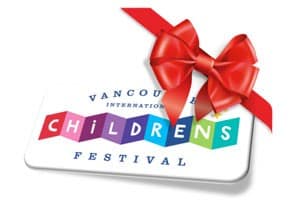 Lighten Santa's load this Holiday Season and opt to give an experience rather than a thing. Christmas memories come from the shared feasting, the family jokes, the carolling, the chaos, the crafting – the shared experience.  This year, give the gift of a day at the Vancouver International Children's Festival.
Give the Gift of the Festival:
The Children's Festival is a great way to have fun together as a family, stimulate the senses and enjoy world class entertainment. Give your family or friend a day at the 2018 Children's Festival! For only $58+GST you can purchase a Family 4-Pack to the Festival, which also includes access to our Activity Village. Gift certificates are also available in any denomination up until December 22nd.
Sneak a peek at the 2018 lineup, our 41st Festival!
Email or call us at 604.708.5655 to reserve your gift today!
It's Dark Outside (ages 8 and up)
This Christmas give the gift of exceptional theatre. The Children's Festival is partnering with the PuSh Festival this January to bring an exciting performance to you! As a Festival Goer, you are eligible to receive up to 33% off regular priced tickets to see the hit and award-winning show It's Dark Outside.
It's Dark Outside uses a creative and ever-surprising blend of live performance, puppetry, animation and an original music score. The performers tell the story of an old man chasing his memories as they escape into the wild "with poetic insight and lightness of touch that makes it moving and uplifting to watch" (The Australian).
You'll be both moved and captivated by this humorous and critically-acclaimed performance. Come see contemporary theatre at its best!

January 24th-28th, Waterfront Theatre
Buy Tickets today, email or call 604-708-5655 to reserve your seats.