Workshops
April 30, 2016
In addition to our many great performances this year, we've got many unique and fun activities such as our Activity Village, pyjama nights and evening shows, roving artists, and this year, we've added three great events perfect for kids and people interested in the artistic process. Take the kids to an active mini-workshop at Arts Umbrella, sit down with some of our artists and learn about their artistic processes creating theatre for very young children, or learn to draw and paint. Workshops are available at minimal or no cost!
Imagination Through Movement Workshop with Arts Umbrella
Wednesday, June 1, Thursday, June 2 & Friday, June 3
Workshops at: 11:00am  11:25am 12:00pm 12:25pm
Workshops are 15 minutes in length
Arts Umbrella Theatre Studio, 1286 Cartwright Street
Activity wristband required for entry • Ages 3 and up
Be inspired by music – children all over the world learn to express themselves through imagery, improvisation, and a sense of play – join in the fun! This mini workshop will introduce the idea of growing, creating, and discovering characters, while using simple choreography to promote coordination, balance, and self-confidence, all set to world music.
Instructors: Terri-Lyn Storey and Laura Jaszcz
In conversation with Asoma and Pekka  (CANCELLED)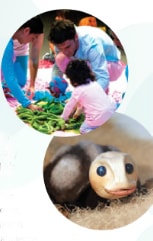 Join Teatro al Vacio and Théâtre des Petites Âmes creators of Asoma and Pekka for tea and a chat about their artistic processes creating theatre for very young children. Since 2007 Teatro al Vacio has developed stage work focused especially for and with kids. Their creation process seeks to incorporate kids and to generate meaningful artistic experiences. Théâtre des Petites Âmes, believes that at this young age a child is at a stage in their development where imagination is boundless. With stories, images and music we can nurture a secret world where anything is possible. Come learn how to engage with this new emerging audience.
Drawing Workshop with the Federation of Canadian Artists
 Saturday, June 4th and Sunday, June 5th
10 AM – 3 PM both days
Activity Village FREE
The Federation of Canadian Artists invites artists of all ages to get arty! Inspired by the current "From Life" exhibition, visitors to the Children's Festival can join our volunteers to draw and paint "en plein air" and from our still life setups. Check out the gallery at 1241 Cartwright Street.