RBC Donates $5,000 to Youth for Youth Program
March 31, 2015
We're pleased to announce that RCB has donated $5,000 this year to our inspiring Youth for Youth Program. Y4Y supports young emerging artists gain valuable real-life skills to further their careers in the arts typically in the fields of music and theatre.
This year, the Festival is working with the Still Moon Arts Society, which aims to inspire vibrant and connected communities by creating art and nurturing a passion for nature.
Youth, who have been training with the Festival over the past two years, are now learning character development, interactive performance skills and costume creation. They will perform at the 2015 Children's Festival as roving characters and as actors as part of the Magical Mystery Maze installation.
In the past, the F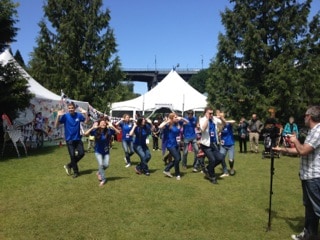 estival has worked with Arts Club through their musical youth training program and Arts Umbrella through their theatre training program and later performed at the Festival. Previous projects include Quest Drummers and The Arts Club Musical Theatre Program.
The Y4Y program is funded by the BC Arts Council and The RBC Foundation.

In 2013, the RBC Foundation committed $6.7 million to arts and cultural organizations, supporting local, national and international initiatives. The RBC Emerging Artists Project helps artists bridge the gap from emerging to established, and supports organizations that provide the best opportunity to advance their career trajectory. We support arts organizations and artists in a range of genres including visual art, music, theatre, performance, literature and film.