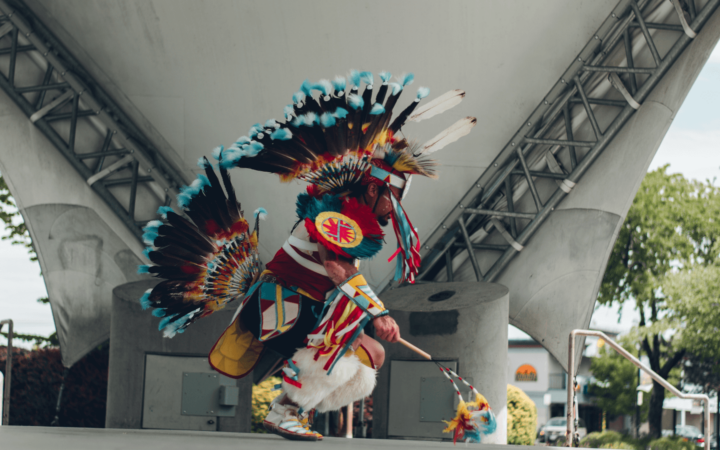 Intricate footwork, beautiful regalia and the powerful sounds of the drum.
The Wild Moccasin Dancers want to share the gift of dance with you! This dynamic dance collective, featuring award-winning female hip hop artist Mz Shellz, will showcase a contemporary fusion of pow wow drumming, dancing and hip hop. Experience the stunning vibrancy of pow wow culture as each dancer shares their style of dance through traditional and contemporary rhythms. Get ready to be inspired by the regalia, songs, dances and stories!
Ways to Watch
IN PERSON
Watch a live performance at the venue.
TICKET INFORMATION
FOR SCHOOLS:
Festival 1 Show Pass: $12+GST/ticket
Festival 2 Show Pass: $22+GST/ticket
FOR THE PUBLIC:
1 Show Day Pass: $12.50 per child/senior; $22.00 per adult +S/C and GST
Festival 4‑Pack: (4 tickets to 1 show) $62.00 +S/C and GST
Accessibility Information
Accessibility:
Wheel Chair Accessible
Accessibility advisory:
- This show has background music.
- This show may have loud/sounds or noises or repetitive noises.
- Children will be invited to participate in sensory interactions.
- Children will be invited on stage. If selected, they may bring guardian to join them. These children may be asked to participate (e.g., paint, draw, read, construct things, sing, in groups on stage, or select items on stage).
- At one point in the show, an artist will enter the audience.
- The audience will be asked to walk/dance/move around during the show.
- This show may contain special effects using smoke machines and moving lights.
Show times & Tickets
Rave Reviews
School TICKETS ARE ON SALE Now! RESERVE YOUR STUDENTS OR GROUP BY PURCHASING ONLINE