David Bouchard: Métis — Stories, Flutes and more…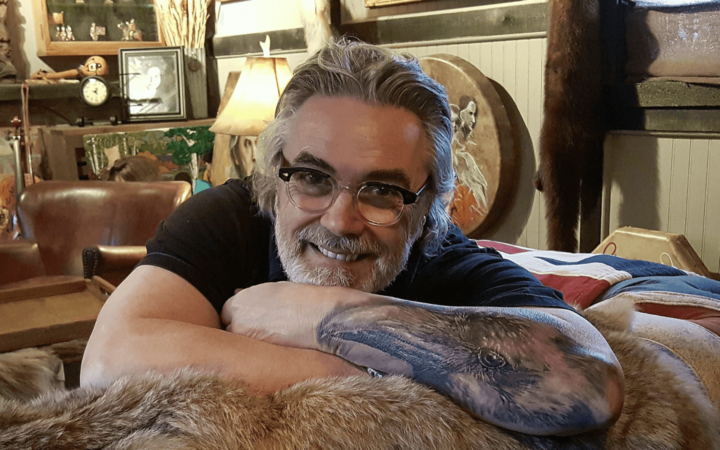 Storytelling at Its Best
Gifted storyteller and award-winning author, David Bouchard shares his Métis heritage through inspiring stories and touching flute music. David weaves history and traditions into engaging and vivid tales that provide a path for children to better understand Indigenous beliefs and culture. A small piece of Reconciliation and a beautiful expression of First Nation spirituality, history and culture, this show is sure to enrich and delight everyone. Watch the video below.
Finaliste de prix littéraires, auteur et conteur fabuleux, David Bouchard partage son propre héritage Métis en racontant des histoires fascinantes et en y ajoutant une dimension musicale à l'aide de sa flûte. David tisse histoire et traditions et crée des contes vivants et engagés qui permettent aux enfants de mieux apprécier les croyances et culture indigènes. Ce spectacle enrichira et fera le plaisir de tous en offrant une part de Réconciliation et une merveilleuse interprétation de la spiritualité, de l'histoire et de la culture des Premières Nations.
Performer: David Bouchard

Country: BC, Canada

Genre: Storytelling

Show length: 45 minutes

Ages: Ages 7 and up (Grades: 2 and up)
Curriculum Connections:
Arts Education: Storytelling, music, traditional and contemporary Indigenous arts and arts-making processes
English/French Language Arts: Literature, story, poetry, recognize First Peoples stories (including oral and written narratives), songs, and art, as ways to share knowledge, beliefs and values
Social Studies: Cultural studies, cultural perspectives, diversity and inclusion
Venue: Waterfront Theatre
1412 Cartwright St
Vancouver, BC
Ways to Watch
IN PERSON
Watch a live performance at the venue.
TICKET INFORMATION
FOR SCHOOLS:
Festival 1 Show Pass: $11+GST/ticket
Festival 2 Show Pass: $20+GST/ticket
FOR THE PUBLIC:
1 Show Day Pass: $12.50 per child/senior; $22.00 per adult +S/C and GST
Festival 4‑Pack: (4 tickets to 1 show) $62.00 +S/C and GST
Accessibility Information
Accessibility:
Wheel Chair Accessible
Accessibility advisory:
- This show may have loud/sounds or noises or repetitive noises.
Show times & Tickets
In person
| Wednesday, May 31 | Additional show info | In person |
| --- | --- | --- |
| 12:30 – 1:15 PM en Français | | Get tickets |
| Thursday, June 1 | Additional show info | In person |
| --- | --- | --- |
| 10:30 – 11:15 AM en Français | Q&A | Get tickets |
| 12:30 – 1:15 PM en Français | | Get tickets |
| Friday, June 2 | Additional show info | In person |
| --- | --- | --- |
| 10:30 – 11:15 AM | | Get tickets |
Show highlights
Rave Reviews
School TICKETS ARE ON SALE Now! RESERVE YOUR STUDENTS OR GROUP BY PURCHASING ONLINE