#GivingTuesday Fast Approaches!
November 24, 2015
After Thanksgiving, Black Friday and Cyber Monday is #GivingTuesday, an international day of philanthropy that falls on the first Tuesday of December. By collectively focusing fundraising efforts on one day it allows for a "critical mass" of giving hopefully blasting through the noise of commercialism and encouraging more people to exercise a little kindness this holiday season.
"#GivingTuesday is about ordinary people coming together doing extraordinary things."
Help us start a wave of giving
On December 1st, we invite you to join us in celebrating #GivingTuesday by making your tax-deductible donation to Vancouver International Children's Festival and helping us reach our goal of raising $25,000.
Your donations help us enrich the lives of children and ensure the Festival remains affordable for everyone. There are many ways you can make an impact, with each contribution helping keep the Vancouver International Children's Festival vibrant in our community.
Some of the community programs you will be supporting include:
Good Neighbours Program: Each year the Festival distributes performance tickets at no cost to low income families through Kids Up Front, a non-profit society that distributes free tickets for arts, culture, sporting and recreational events to child-serving organizations across Metro Vancouver.
Adopt a Class: This program provides return bus transportation and featured performance tickets for school groups in low-income neighborhoods across Metro Vancouver that would otherwise be unable to attend the Festival.
Hospital Outreach Program: Our Hospital Outreach Program brings the Festival experience to children receiving treatment or in care at child-centred healthcare facilities serving all British Columbians: B.C. Children's Hospital, Canuck Place Children's Hospice and Sunny Hill Health Centre.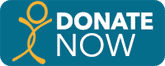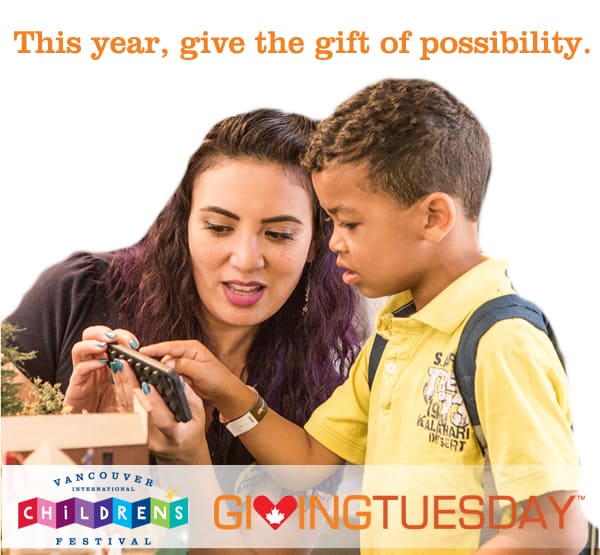 How to Participate
You don't need to give a lot to participate, in fact here are some ways you can give back without spending a dollar:
1) Make a digital pledge to boost our signal before Dec 1st!

Breaking through the noise on #GivingTuesday requires making a splash on social media. We are inviting our partners to use an innovative new site called Thunderclap to help boost our respective signals to the most people. Thunderclap enables you to pledge a tweet or Facebook post (or both!) in advance to your favorite campaigns until their goal is reached and then automatically sends it out on the planned day.

We invite our charitable community partners to sign on to support our Thunderclap and then create their own and invite us back!
2) Share the campaign pledge with your network
Share our Thunderclap campaign with friends or colleagues you know would love us! We want more organizations and corporate partners to log on and join us in raising awareness of #GivingTuesday and the fantastic work charities and their corporate partners do in our community.
Here are some example posts for you to use:
3) Donate your Airmiles Cash or Shoppers Optimum Points

Donate your Airmiles Cash Miles by going to www.airmiles.ca/donate and searching for Vancouver International Children's Festival Society in the "Browse Charities" field. Click on our organization then click "Get Code" and go to the Airmiles Collector site to complete the eVoucher process (note this only works for earned Cash Miles, not Dream Miles points).
Donate your Shoppers Optimum Points by logging into your Optimum account at www.shoppersoptimum.ca and selecting "Donate/Transfer Points" from the top menu. Scroll down to the "Donate Points to A Charity" section and select "Vancouver International Children's Festival" from the Charity dropdown menu. Enter the number of points you wish to donate then click the "Donate Points" button.
Come Celebrate with us!
#GivingTuesday is also our time to thank our generous public and private donors and those who have given so selflessly to our campaigns, projects and events. We invite you to join us to celebrate the tidings of the season at the Amacon Tree Lighting at Jack Poole Plaza, on December 4th, 2015. Live music, facepainting, activities for the kids and of course, lighting of the tree are our gift to you this holiday season. Come share the magic! More info on the Amacon Tree Lighting Event

Thanks Amacon for pledging to match our first $10,000 raised! Every donation on #GivingTuesday will be doubled!
Win tickets to the Children's Festival!
We will be randomly selecting winners from social media to receive one of 4 x Four Pack Family Passes for 2016's Vancouver International Children's Festival. To enter you must
Pledge your support to our Thunderclap campaign using Twitter or Facebook PLEDGE SUPPORT NOW
We will be randomly selecting from those who tweet between November 24th – December 1st and announcing the winner on our Twitter and Facebook feeds after December 1st.
***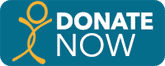 Thank you for supporting the Vancouver International Children's Festival in 2016. With your help, we can make a difference to some very deserving kids in the Lower Mainland area.
Happy #GivingTuesday!
– The VICF Team