The Girl of Ink and Stars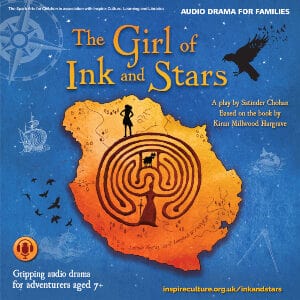 Be transported to the mythical island of Joya in this gripping audio drama, as you join Isabella and Pablo in the search for their missing friend.  As they journey into unknown and forbidden areas of the island, they soon discover a fiery legend is stirring from its sleep. Based on the award-winning book by Kiran Millwood Hargrave, The Girl of Ink and Stars adapted by Satinder Chohan is a tale of maps, myths and the power of friendship magically brought to life through sound. All you need is a comfy chair and a big imagination for this fun and action-packed listening experience.
Please note this is an audio play. The performance is sound only.
A play by Satinder Chohan
Based on the book by Kiran Milwood Hargrave
Producing Company: The Spark Arts for Children in association with Inspire: Culture, Learning and Libraries
Country: Britain
Genre: Audio drama
Resource: Study Guide
Show length: 60 minutes
Ages: Ages 7 and up (Grades 2 and up)
Ways to Watch & Listen
Pre-recorded Audio

Listen to a pre-recorded online audio drama performance at home. Available until Sunday, June 13th at 8pm.
Show Times
Pre-recorded audio
Available starting
Listen until
Pre-recorded audio

tickets

Wednesday, June 2 at 12:00 pm
8:00 pm on Sunday, June 13
Buy tickets
Ticket Information
Public 
… a thrilling and atmospheric audio experience based on an imaginative tale… a welcome escape to another world.

~ Sally Jack (British Theatre Guide)