The Drum Café Experience (Africa Day)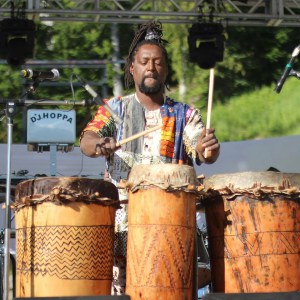 Feel the beat and drum your heart out through the ancient African tradition of drumming at The Drum Café. A memorable, energizing, therapeutic and motivating interactive experience, The Drum Café promotes a positive message of unity and collaboration. While playing the djembe together, we will learn to listen to each other, feel our collective rhythm and connect to our shared humanity. Also enjoy a short opening performance of Introduction to Dances from Africa by Sankofa Village. Several youths from the Black and African community come together to proudly reclaim and showcase their own heritage through traditional music, songs and dances from Africa.
The Drum Café is a part of Africa Day, a day of friendship at the 2021 Vancouver International Children's Festival.
TBD In-Person Event: With current provincial health orders restricting events and for the safety of patrons, the Festival will not be selling In-person performance tickets at this time. Should BC Public Health Authorities lift restrictions, the Festival will release a limited number of tickets for In-person shows. The Festival will monitor communications from the provincial health office and make an announcement regarding In-person tickets by the end of April. Please stay tuned. Tickets for Online shows go on sale on April 13th at 9am.
Performers: Munkie Ncapayi and Sankofa Village
Country: South Africa
Genre: Music
Show length: 75 minutes
Ages: All Ages (Grades K-12)
Ways to Watch & Listen
In-person

Watch a live performance at the venue.
Show Times
In-person
Sunday, June 6
In-person

tickets

1:30 – 2:45 pm
Ticket Information
Public 
Schools – Virtual Field Trip
LIVE Online – $60+GST & order fee per class
Pre-recorded Online – $60+GST & order fee per class

School Tickets are on sale NOW! All Virtual Field Trips include access to 6 online arts workshops!