Storytelling by Jean Pierre Makosso (Africa Day)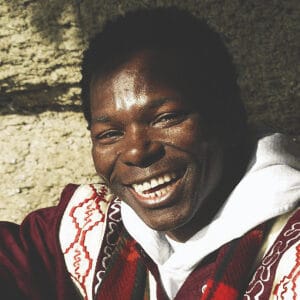 Traditional stories in Africa are meant to entertain children and adults while they learn important lessons about everyday life. Travel to Makosso's village – a place of stories that will capture your heart – and gather 'round as he spins stories and shares African fables with you. He will hold our community together and provide an opportunity for us to feel connected to each other even though we are physically distant. Let's listen to some stories and experience the warmth and joy of simply being together. Storytelling by Jean Pierre Makosso will be followed by a brief music and dance performance by the youths of Sankofa Village. Several youths from the Black and African community come together to proudly reclaim and showcase their own heritage through traditional music, songs and dances from Africa.
Storytelling by Jean Pierre Makosso is a part of Africa Day, a day of friendship at the 2021 Vancouver International Children's Festival.
TBD In-Person Event: With current provincial health orders restricting events and for the safety of patrons, the Festival will not be selling In-person performance tickets at this time. Should BC Public Health Authorities lift restrictions, the Festival will release a limited number of tickets for In-person shows. The Festival will monitor communications from the provincial health office and make an announcement regarding In-person tickets by the end of April. Please stay tuned. Tickets for Online shows go on sale on April 13th at 9am.

Performers: Jean Pierre Makosso and Sankofa Village
Country: Pointe-Noire in Congo Brazzavile
Genre: Storytelling
Show length: 90 minutes
Ages: All Ages (Grades K-12)
Ways to Watch & Listen
In-person

Watch a live performance at the venue.
Show Times
In-person
Sunday, June 6
In-person

tickets

11:00 am – 12:30 pm
Ticket Information
Public 
Schools – Virtual Field Trip
LIVE Online – $60+GST & order fee per class
Pre-recorded Online – $60+GST & order fee per class

School Tickets are on sale NOW! All Virtual Field Trips include access to 6 online arts workshops!