Storytelling and Illustration with Christine Mackenzie (Workshop)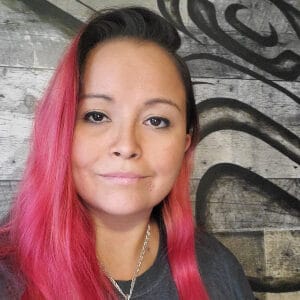 Grab your pencil crayons and your imagination and explore storytelling and illustration with Kwakiutl Nation Artist and Facilitator Christine Mackenzie. Christine will share a story and its meaning as she guides you along a creative journey. Using your imagination, you will create an illustration inspired by the story. Christine will share her culture, artwork and protocols. She will also share some of her traditional items, artwork and drawing techniques. Christine has been doing art all of her life and began doing it professionally 12 years ago when she was mentored by Haida Artist Anastasia Hendry. She is truly grateful and honored to have ancestral lineage giving her strength to practise and share her culture.
Pencils
Pencil crayons
4 sheets of paper
Felt markers (optional)
Ways to Watch & Listen
Live Online Plus

Watch a live performance at home PLUS access the recorded performance from 9 am the day after.

Pre-recorded Online

Watch a pre-recorded online performance at home. Available until Sunday, June 13th at 8pm. Closed Captioning available.
Show Times
Live online plus
Thursday, June 3
Live online plus

tickets

1:30 – 2:15 pm
Pre-recorded video
Available starting
Watch until
Pre-recorded video

tickets

Friday, June 4 at 9:00 am
8:00 pm on Sunday, June 13
Watch now
How to Watch
This Online Workshop is included with your Show Ticket. No registration is required. Once you purchase a Show ticket, further instructions will be sent in an email and the viewing link will be emailed the day before.
If you have purchased tickets and are ready to watch a workshop, please review our How to Watch page to optimize your viewing experience.