Somebody Loves You Mr. Hatch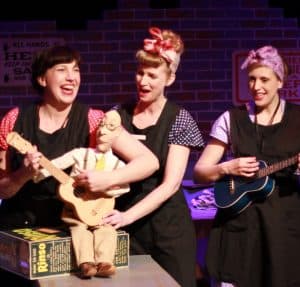 Mr. Hatch cannot smile. He leads a colourless, ordered life, until one Valentine's Day, he receives a candy-filled heart with a note that reads, "Somebody loves you." Mr. Hatch's world (and his frown) are turned upside down and then he does something he has never done before…he laughs! This heartwarming and award-winning show uses a creative and ever-surprising blend of live performance, puppetry and live music. Who is his secret admirer and will Mr. Hatch keep his new-found smile? Whatever the outcome, Somebody Loves You Mr. Hatch is sure to put a smile on your face. Watch the video below!
2016-2017 Jessie Richardson Theatre Award Winner for Outstanding Design and Outstanding Artistic Creation.


Producing Company: Axis Theatre Company
Country: BC
Genre: Puppetry / Theatre
Show length: 35 minutes
Resource: Study Guide


Ages: Ages 3-8 (Grades: Pre-2)
Venue: Waterfront Theatre (Venue 4) and Performance Works (Venue 6)
Show Times
Monday, May 27, 2019
10:30 am — 11:05 am Performance Works
12:30 pm — 1:05 pm Performance Works
Tuesday, May 28, 2019
10:30 am — 11:05 am Performance Works
12:30 pm — 1:05 pm Performance Works
Saturday, June 1, 2019
11:30 am — 12:05 pm Waterfront Theatre
3:00 pm — 3:35 pm Waterfront Theatre
Sunday, June 2, 2019
11:30 am — 12:05 pm Waterfront Theatre
2:00 pm — 2:35 pm Waterfront Theatre
Tickets
School ticket price: $12.00 + GST
One Show Day Pass: $22.00 per adult; $12.50 per child + GST and s/c
4-Pack Family Pass: (4 tickets to 1 show) $58.00 + GST and s/c
More info on ticket pricing


I had so many "good feeling" moments as I looked around at our children and saw how engaged and engrossed they were during the performance.

~ Caroline, Parent
The theatre company's whimsical and wonderful storytelling features puppetry, singalongs, and an entertaining touch everyone will love.

~ Chilliwack Progress