Shivers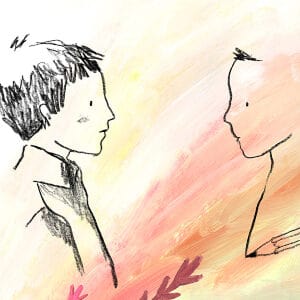 Anis is about to become an older brother and worries about sharing his room, his toys, and his parents' love with his new sibling. Based on the widely acclaimed play Frissons, by Johanny Bert and Magali Mougel, Shivers is a digital adaption that tells Anis' story through the beautiful animated illustrations of Charlotte Melly. Join Anis as he anxiously meets his adoptive brother. Over time, they form a friendship, discover themselves and overcome their fears of one another. Don't miss this unique approach to storytelling that follows a young boy as he struggles to welcome his younger brother into his life. Watch a video below! Canadian premiere. Aussi en français.
These videos were adapted from Frissons, a show created as part of Odyssées 2020, a festival developed by Théâtre de Sartrouville et des Yvelines–CDN in partnership with the Yvelines Departmental Council.
Producing Companies: Co-produced by French Institute Alliance Française (FIAF) and by Théâtre de Sartrouville et des Yvelines-CDN
Conception and direction by Johanny Bert
Text by Magali Mougel
Translation by Nicholas Elliott
Illustrations by Charlotte Melly
Sound by François Leymarie
With the voices of: Matthew ZanFagna, Marleny Heredia, Kourtney Rutherford, Dylan Ungaretta.
Country: France and USA
Genre: Digital Theatrical Adaptation, Storytelling and Visual Arts
Show length: 25 minutes



Ages: Ages 4 and up (Grades Pre and up)
Ways to Watch & Listen
Pre-recorded Online

Watch a pre-recorded online performance at home. Available until Sunday, June 13th at 8pm. Closed Captioning available.
Show Times
Pre-recorded video
Available starting
Watch until
Pre-recorded video

tickets

Tuesday, June 1 at 10:00 am
8:00 pm on Sunday, June 13
Buy tickets
Pre-recorded video (en français)
Available starting
Watch until
Pre-recorded video

tickets

Tuesday, June 1 at 10:00 am
8:00 pm on Sunday, June 13
Buy tickets
Ticket Information
Public