Puppet-Making (Workshop)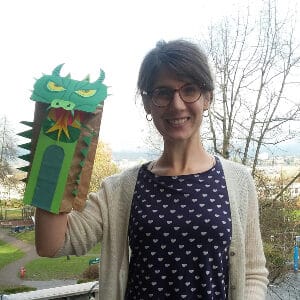 Join
Anaïs for a fun and simple puppet making workshop that will get you excited about bringing your own characters and concepts to life. Anaïs will teach you different techniques such as making a paper bag puppet and how to make finger puppets. What kind of puppet will you make? From tigers and fairies to cats and frogs, the only limit is your imagination. Create your own stories with your puppets and set off on some adventures! Anaïs is a puppeteer, actor and theatre creator. She comes from Belgium and has been living and working in Vancouver for four years now. Her favorite fields are Theatre for Young Audience (TYA) and Puppetry.
Venez rencontrer Anaïs dans un atelier ludique et simple de construction de marionnette qui vous permettra de donner vie à vos propres personnages. Anaïs vous apprendra plusieurs méthodes pour créer une marionnette en papier ou bien une marionnette à doigts. Quel genre de marionnette ferez-vous ? Un tigre, une princesse ou une grenouille, la seule limite est votre imagination. Créez une  histoire pour votre marionnette et vous voilà parti pour l'aventure ! Anaïs est marionnetiste, actrice et créatrice théatrale. Originaire de Belgique, elle vit maintenant à Vancouver ces quatre dernières années. Son domaine préféré est le théatre pour jeune public et l'art de la marionnette.
Workshop Leader: Anaïs Pellin
Country: BC/Canada & Belgium
Workshop length: 45 minutes
Ages: All Ages (Grades K-12)
Recommended supplies: Choose which animal you want to make and have coloured paper ready for the animal (for example for a black cat, black paper and maybe grey for inside the ears, pink for the nose, etc.).
Paper bag puppet / Marionnette sac en papier
Paper bags / sacs en papier
Coloured + white cardstock paper / papiers cartonnés blanc et colorés
Glue stick / Tube de colle
Scissors / Ciseaux
Crayons / Crayons de couleur
Sharpie
Pipe Cleaners / Cure-pipes
Pieces of fabric / Morceaux de tissus
Curling Ribbon / Ruban à friser
Finger Puppet / Marionnettes à doigts
News paper / papier journal
Masking tape (white) / Ruban de masquage (blanc)
Elastics / élastiques
Scissors / Ciseaux
Sharpie
Ways to Watch & Listen
Live Online Plus

Watch a live performance at home PLUS access the recorded performance from 9 am the day after.

Pre-recorded Online

Watch a pre-recorded online performance at home. Available until Sunday, June 13th at 8pm. Closed Captioning available.
Show Times
Live online plus
Wednesday, June 2
Live online plus

tickets

1:30 – 2:15 pm
Pre-recorded video
Available starting
Watch until
Pre-recorded video

tickets

Thursday, June 3 at 9:00 am
8:00 pm on Sunday, June 13
Watch now
Pre-recorded video (en français)
Available starting
Watch until
Pre-recorded video

tickets

Thursday, June 3 at 9:00 am
8:00 pm on Sunday, June 13
Watch now
How to Watch
This Online Workshop is included with your Show Ticket. No registration is required. Once you purchase a Show ticket, further instructions will be sent in an email and the viewing link will be emailed the day before.
If you have purchased tickets and are ready to watch a workshop, please review our How to Watch page to optimize your viewing experience.