Papergee and the Spider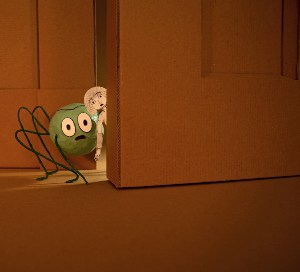 Papergee is lost and alone and all she wants to do is find a home. Then, from the corner of the room, eight spindly legs appear…Follow the story of a lost little girl on a journey of epic proportions as she battles her way to safety in an unfamiliar place where everything towers above her. She must traverse the stairs, defeat the vaccuum and avoid the drain, but she's not alone, an unlikely friend provides four pairs of helping hands and a lot of fun along the way.  Come see Visible Fictions' stop motion animation film and North American premiere.
Note: the May 30th show will be available for viewing between 10 am – 1 pm PST, it is 14 minutes long.
Created by: Visible Fictions
Country: Scotland
Genre: Film
Show length: 14 minutes
Ages: Ages 5 and up (Grades: K and up)
Venue: Link for the film
Show Times
Wednesday, May 27, 2020
3:30 pm — 4:30 pm Facebook: www.facebook.com/KidsFest
Friday, May 29, 2020
3:30 pm — 4:30 pm Facebook: www.facebook.com/KidsFest
Saturday, May 30, 2020
10 am — 1:00 pm Facebook: www.facebook.com/KidsFest