Origami (Workshop)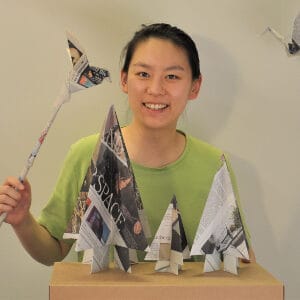 Grab your supplies and get your hands ready to make origami with Jaylon! Learn how to make beautiful three-dimensional creations by simply folding paper. You can use any foldable scrap paper found in your home such as, old magazines, newspapers and flyers. Let's be creative and give scrap paper a second life! Jaylon, loves to play with paper and explore new possibilities with materials found in the recycle bin. Ze is an origami artist and theatre artist based in Vancouver.
Workshop Leader: Jaylon Han
Country: BC/Canada
Workshop length: 45 minutes
Ages: Ages 5 and up (Grades K-12)
Recommended supplies:
Ways to Watch & Listen
Live Online

Watch a live performance at home or in your classroom and access the recorded performance from 9 am the day after.

Pre-recorded Online

Watch a pre-recorded online performance at home or in your classroom. Available until Sunday, June 13th at 8pm.
Show Times
Live online
Thursday, June 3
Live online

tickets

9:30 – 10:15 am
Pre-recorded video
Available starting
Watch until
Pre-recorded video

tickets

Friday, June 4 at 9:00 am
8:00 pm on Sunday, June 13
How to Watch
This Online Workshop is included with your Show Ticket. No registration is required. Once you purchase a Show Ticket, further instructions will be sent in early May and the viewing link will be emailed 24 hours (or the day) before the live online workshop series begins.