Once Upon a Tide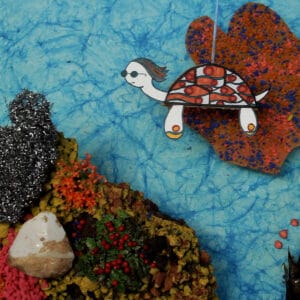 You'll be swept away on a journey that follows eight hundred turtle siblings as they make their way to India to celebrate their Father's birthday. This large family of turtles are spread far and wide across the world. They must overcome great lengths and work together in order to all arrive at Velas in time for their Father's party. Will this turtle train be delayed, or will they arrive on time? Using animation, film and puppetry, Art Apart has created a layered and charming film that honours Diego, the real Giant Tortoise from the Galapagos who turned one hundred in 2020. In a breeding program, Diego was responsible for siring a whopping eight hundred offspring over his lifetime and has helped revive this endangered species. Watch a video below!
Producing Companies: Art Apart & ThinkArts
Country: India
Genre: Digital Arts/Storytelling/Film
Show length: 30 minutes


Ages: Ages 6 and up (Grades K and up)
Ways to Watch & Listen
Pre-recorded Online

Watch a pre-recorded online performance at home. Available until Sunday, June 13th at 8pm. Closed Captioning available.
Show Times
Pre-recorded video
Available starting
Watch until
Pre-recorded video

tickets

Tuesday, June 1 at 12:00 pm
8:00 pm on Sunday, June 13
Buy tickets
Ticket Information
Public