Mokatek and the Missing Star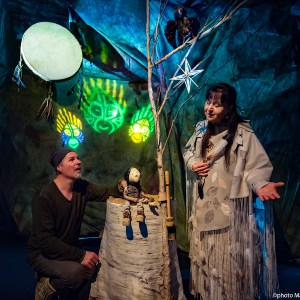 Mokatek loves to count the stars every night. Ever since his mother disappeared, the North Star has become his compass and protector and he confides in it each night. One evening, the brightest star in the sky vanishes and Mokatek is heartbroken. Guided by the Spirit of Sounds and Animals, Mokatek embarks on a courageous journey to find the star. Don't miss this adventurous tale steeped in the rich cultures of the Abenakis and the Maliseet First Peoples. A captivating blend of puppets, objects, songs and music, this multi-sensory show is a great way to introduce young children to Indigenous languages and First Nations beliefs. Watch the video below.

Pour le petit Mokatek, compter les étoiles pour s'endormir chaque soir est un réel plaisir. Depuis la disparition de sa mère, il aime raconter ses journées à celle qui brille le plus dans le ciel, sa boussole qui de là-haut le protège : l'étoile du Nord. Un soir de pleine lune, l'étoile du Nord disparaît. C'est alors le début d'un voyage initiatique pour retrouver l'astre brillant et pour découvrir la force et le courage qu'il porte à l'intérieur de lui. Une quête vers lui-même, vers son origine, qui sera guidée par l'esprit des sons et des animaux. Ne manquez pas cette aventure riche et intime des cultures desPremiers Peuples Abénakis et du « peuple de la belle rivière », les Wolastoqiyik Wahsipekuk (Malécites).Fusionnant le théâtre de marionnettes, d'objets, de chants et de musique, ce spectacle multisensoriel est né du profond désir d'éveiller les jeunes enfants aux langues autochtones, ainsi qu'à la cosmogonie des Premières nations.
Producing Companies: Co-production of Ondinnok and VOX Théâtre
Country: Québec / Canada
Genre: Puppetry | Theatre
Show length:  35 minutes
Resources: Study Guide

Ages: Ages 2.5-8 (Grades Pre-3)
Venue: Performance Works (Venue 6)
Show Times
Thursday, May 28, 2020
10:30 am — 11:05 am Performance Works (en français)
12:30 pm — 1:05 pm Performance Works (en français)
Friday, May 29, 2020
10:30 am — 11:05 am Performance Works (en français)
12:30 pm — 1:05 pm Performance Works (en français)
Saturday, May 30, 2020
11:00 am — 11:35 am Performance Works
1:30 pm — 2:05 pm Performance Works
Sunday, May 31, 2020
11:00 am — 11:35 am Performance Works
1:30 pm — 2:05 pm Performance Works
Tickets
School ticket price: $11.00 + GST
One Show Day Pass: $22.00 per adult; $12.50 per child + GST and s/c
4-Pack Family Pass: (4 tickets to 1 show) $58.00 + GST and s/c
More info on ticket pricing

Public tickets now on sale

Mokatek and the Missing Star is a wonderfully imaginative telling of a story of discovery, friendship, determination and maturing. It's told with sensitivity and great imagination.

~ Lynn Slotkin, The Slotkin Letter
On en ressort transformé, habité par une paix intérieure.

~Ici Radio Canada Ottawa-Gatineau