LOUD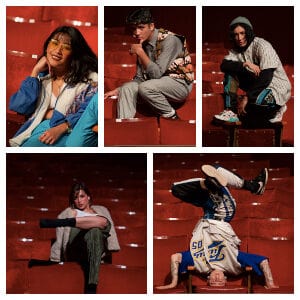 It's about to get loud as Immigrant Lessons hits the stage! They'll blow you away with their dynamite moves and dizzyingly fast footwork. Don't miss this high-energy extravaganza that highlights street dance forms such as; Dancehall, Hip Hop, Breaking, House and Jazz. LOUD, is a celebration of the music, dance, and cultural gifts that are often created out of oppression and when different cultures collide. You'll be moved in more ways than one as you watch this collective of talented professional artists showcase their skills and love of dance. Get ready to turn it up with LOUD! Watch their video below! Commissioned by the Vancouver International Children's Festival.
Producing Company: Immigrant Lessons
Country: BC / Canada (with roots in Philippines, India, Jamaica, Taiwan and Ghana)
Genre: Dance/Theatre/Music
Show length: 45 minutes


Ages: Ages 8 and up 
Ways to Watch & Listen
Pre-recorded Online

Watch a pre-recorded online performance at home. Available until Sunday, June 13th at 8pm. Closed Captioning available.
Show Times
Pre-recorded video
Available starting
Watch until
Pre-recorded video

tickets

Monday, May 31 at 1:30 pm
8:00 pm on Sunday, June 13
Buy tickets
Ticket Information
Public