Jam Side Up (Côté confiture )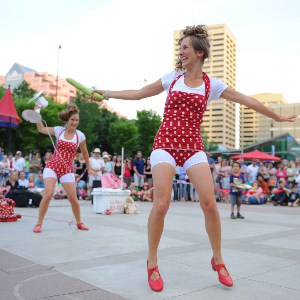 Flying bunnies, speeding French fries and identical twins?! This show has it all and then some! The Kif-Kif Sisters' surprising blend of comedy and audience interaction is enough to make vegetables explode! Get ready to howl with laugher at The Kif-Kif Sisters' out-of-this-word antics. Twice the action and twice the fun, some things in life are just better in twos. This charming, original show is theatre, puppetry, circus, magic and comedy all rolled into one! The Kif-Kif Sisters are masters at drawing their audience into their world of unusual and zany comedy. We guarantee, you'll never know what's coming next! Watch a video below!

Public tickets now on sale
Les jumelles sont inséparables, voire indéscotchables. Elles font voler les lapins et pleuvoir des patates frites, combattent des monstres roses géants et pratiquent l'art de la collation. Il y a tant de choses, dans la vie, qui sont mieux à deux ! Les Soeurs Kif-Kif cheminent dans la comédie et le théâtre de rue et offrent un mélange d'humour inattendu, de coopération avec le public, et de bonheur à faire exploser les légumes ! Préparez-vous à mourir de rire avec l'humour tendre et pétillant des soeurs Kif-Kif. Leur spectacle ludique, rempli de charme et d'originalité, est un tour de force qui mèle théatre, marionettes, cirque, magie et comédie. Les Soeurs Kif-Kif sont championnes du théatre de rue et prennent soin de communiquer avec le public et de l'inclure dans le spectacle, afin qu'il vive une expérience intime et unique. Nous vous guarantissons de belles surprises ! Vidéo.
Performers: The Kif-Kif Sisters
Country: Québec / Canada
Genre: Physical Comedy |  Circus
Show length:  40 minutes



Ages: All Ages (Grades K-12)
Venue: Waterfront Theatre (Venue 4)
Show Times
Thursday, May 28, 2020
10:30 am — 11:10 am Waterfront Theatre (en français)
12:30 pm — 1:10 pm Waterfront Theatre (en français)
Friday, May 29, 2020
10:30 am — 11:10 am Waterfront Theatre (en français)
12:30 pm — 1:10 pm Waterfront Theatre
6:30 pm — 7:10 pm Waterfront Theatre
Saturday, May 30, 2020
12:30 pm — 1:10 pm Waterfront Theatre
3:00 pm — 3:40 pm Waterfront Theatre
Sunday, May 31, 2020
12:30 pm — 1:10 pm Waterfront Theatre
3:00 pm — 3:40 pm Waterfront Theatre
Tickets
School ticket price: $11.00 + GST
One Show Day Pass: $22.00 per adult; $12.50 per child + GST and s/c
Pyjama Night Show: All tickets $11 +GST and s/c
4-Pack Family Pass: (4 tickets to 1 show) $58.00 + GST and s/c
More info on ticket pricing

Public tickets now on sale

Everyone had a riot of a time with the Kif-Kif Sisters!

~ Winnipeg 99.9 fm
They are absolutely hilarious. They get a major stamp of approval from my kids. 

~ Ruth Wikler, Deputy Director of Programming, Tohu theatre in Montréal