Jacky's Village (Le village de Jacky)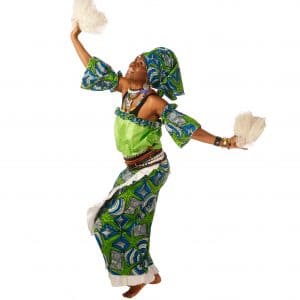 There's going to be a dance party and you're invited! Feel the rhythm as you take a trip to Jacky's Village, featuring music, dance and storytelling from the African countries of Cameroon, Guinea, and Zimbabwe. Come celebrate this beautiful and inspiring expression of African history and culture with the talented Jacky Essombe, accompanied by her friend Yoro Noukoussi. Performed to the music of traditional African instruments, including the djembe, talking drum and shekere, Jacky's lively dancing will blow you away. Audience participation is encouraged throughout the show in the form of call-and-response, singing, clapping and dancing, giving new meaning to the phrase, "It takes a village…" Watch a video of Jacky below!

Vous êtes invité à une célébration ! Venez ressentir le rythme du village de Jacky, un spectacle de musique, de danse et d'histoire des pays du Cameroun, de la Guinée et du Zimbabwe. Venez célébrer cette magnifique et émouvante expression de l'histoire et de la culture africaine avec la talentueuse Jacky Essombe et son compagnon Yoro Noukoussi. Ils interprètent la musique traditionnelle africaine avec entre autres le djembe, le marimba et le shekere. La danse endiablée de Jacky vous emportera. Tout au long du spectacle, la participation de l'audience est encouragée sous forme d'appels et réponses, de chants, en tapant dans les mains et en dansant, donnant ainsi un sens complet à l'expression: "il faut tout un village pour…" Vidéo.
Performers: Jacky Essombe and friends
Country: Cameroon / BC
Genre: Music/Dance/Storytelling
Show length: 50 minutes
Resources: Cahier Pédagogique, Study Guide
Ages: All Ages (Grades K-12)
Venue: Studio 1398 (Venue 5)
Show Notes: Both performances are bilingual and will be in both French and English
Show Times
Wednesday, May 29, 2019
10:30 am — 11:20 am Studio 1398 (bilingual)
Friday, May 31, 2019
12:30 pm — 1:20 pm Studio 1398 (bilingual)
Tickets
School ticket price: $12.00 + GST
One Show Day Pass: $22.00 per adult; $12.50 per child + GST and s/c
4-Pack Family Pass: (4 tickets to 1 show) $58.00 + GST and s/c
More info on ticket pricing


We absolutely LOVED the performance. Jacky and her musicians were extremely entertaining and responded to and interacted with the students extremely well.

~ Michael A., Teacher
We loved the performance!!! It was well structured, energetic, informative, interactive and so joyful.

~ Audience Member