Indigenous Art (Workshop)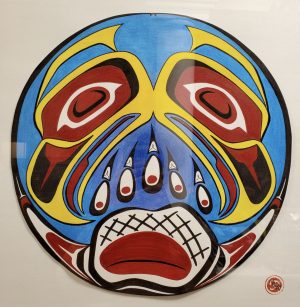 Here's the link to enjoy the Indigenous Art workshop anytime before the end of day on Sunday, June 7th!
Feel free to keep the Kids Festival spirit alive by sharing your creations, videos, and memories on social media by using the #KidsFestPopUp hashtag!
Share in the beauty of Northwest Coast First Nations artwork in this hands-on workshop with Kwakiutl artist and facilitator Christine Mackenzie. You'll learn about form line and culture while you create a contemporary design, using traditional items such as rattles, drums, games and other regalia for inspiration. Christine, who was born in Kelowna, BC, grew up in the Coast Salish traditional territories. She enjoys working with traditional and contemporary design, and with multiple mediums, and was mentored by Haida Artist Anastasia Hendry.
Performance Workshop Leader: Christine Mackenzie a Kwakiutl first nation artist and facilitator
Country: BC/Canada
Show length: 60 minutes
Ages: 3 and up
Venue: Facebook
Recommended supplies: 
3 sheets of 8×11 paper per person
Pencil, eraser, and sharpener
Something to add colour: pencil crayons, crayons, felts, or pastels.
Disclaimer: Lesson plans and worksheets shared online with the Vancouver International Children's Festival 2020 are copyrighted by Christine Mackenzie First Nation Artist and Facilitator. They are not to be recreated or modified in any matter. Cultural speaking it is not proper protocol to teach unless given permission to do so.
Show Times
Sunday, May 31, 2020
Noon pm — 1:00 pm Facebook: www.facebook.com/KidsFest