Ideas Bobert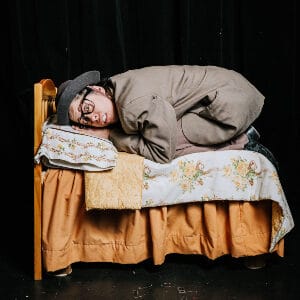 What would you get if you mixed Ginger Rogers with Mr. Bean and the Muppet show?! It's Ideas Bobert! Award-winning creator Candice Roberts uses vintage silent film styling, shadow puppetry, stop motion animation projections, dance and live music to bring you a word-less show rich with magic and creativity. Join Bobert on his personal journey to find his true heart's desire. Will he learn the importance of listening to his own heart? A heart-warming and hilarious physical comedy that will delight the entire family! Watch the video below.
Producing Company: Candy Bones Theatre
Country: BC / Canada
Genre: Physical theatre
Show length: 45 minutes
Resource: Study Guide
Ages: Ages 5 and up (Grades K-8)
Ways to Watch & Listen
In-person

Watch a live performance at the venue.

Live Online

Watch a live performance at home or in your classroom and access the recorded performance from 9 am the day after.

Pre-recorded Online

Watch a pre-recorded online performance at home or in your classroom. Available until Sunday, June 13th at 8pm.
Show Times
In-person and Live online
Pre-recorded video
Available starting
Watch until
Pre-recorded video

tickets

Saturday, June 5 at 9:00 am
8:00 pm on Sunday, June 13
Buy tickets
Ticket Information
Public 
Schools – Virtual Field Trip
LIVE Online – $60+GST & order fee per class
Pre-recorded Online – $60+GST & order fee per class

School Tickets are on sale NOW! All Virtual Field Trips include access to 6 online arts workshops!
All ages will enjoy the fine clown work of the multi-talented Roberts. Anyone with a curious heart will find theirs aflutter watching Ideas Bobert!

~ Winnipeg Free Press
Ideas Bobert shows us that the arts provide a space to take risks.

~ Teacher, School District 33