Every Day Stop Motion Animation (Workshop)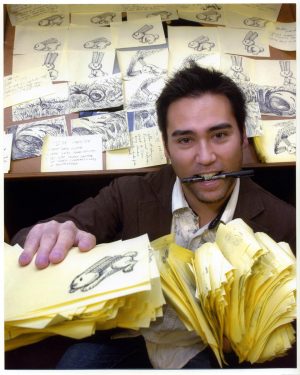 Here's the link to enjoy Every Day Stop Motion Animation anytime before the end of day on Sunday, June 7th!
Feel free to keep the Kids Festival spirit alive by sharing your creations, videos, and memories on social media by using the #KidsFestPopUp hashtag!

Have you ever wanted to make a stop motion animation with everyday objects and create your own cartoon character? Learn how to make magical moving pictures with award-winning and Emmy nominated animation filmmaker Jeff Chiba Stearns! Jeff will teach you fun and innovative ways to create the illusion of life through animation techniques that you can do at home. Learn tips and techniques to help you draw your own imaginative and appealing cartoon characters, and create classical and stop motion animation using the principles of animation. A graduate of Emily Carr University with a degree in Film Animation, Jeff Chiba Stearns is the founder of Vancouver-based boutique animation studio Meditating Bunny Studio Inc., whose work has been broadcast and garnered awards around the world.
Performance Workshop Leader: Jeff Chiba Stearns
Country: BC/Canada
Show length: 45 minutes
Ages: Elementary school-age
Venue: Facebook
Recommended supplies: 
Post-it Notes (any size any colour) or pad of paper
Flashlight or something that makes light
8.5×11 letter sized paper
Pencil and eraser
Digital camera, phone camera, etc. – tripod if available but not necessary
Free stop-motion apps: Stop Motion Studio (for stop motion); FlipaClip (for classical animation)
Show Times
Wednesday, May 27, 2020
4:00 pm — 4:45 pm Facebook: www.facebook.com/KidsFest