Élage Diouf – Melokáane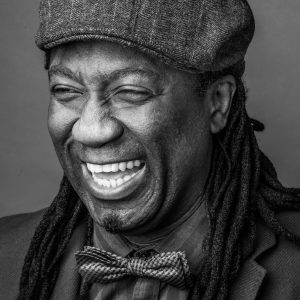 Élage Diouf is sure to capture your heart and move your soul with his irresistible joyous energy. His uplifting blend of pop, world, blues, folk and asiko will have kids singing and dancing in their seats. And don't be surprised if Élage invites you to come up on to the stage to dance with him! The warmth and quality of Diouf's voice, his uniquely diverse sound, and his infectious rhythms ensure he never has to ask twice. This Senegalese-born singer-songwriter describes his music as, "…sounds that are warm, with good dancing rhythms, sounds that make you want to move and feel great. This is what I want for myself, my family, my planet." Sounds like the perfect wish to us! Watch the video below.
JUNO Award winner and featured performer in Cirque du Soleil's Delirium.

Élage Diouf saura séduire votre coeur et votre âme avec une énergie joyeuse et irrésistible. Sa musique est un mélange exaltant de pop, world, blues, folk et asiko, qui stimulera les enfants au point de les faire chanter et danser dans leur sièges. Ne soyez pas surpris si Élage vous invite sur scène pour danser avec lui ! La chaleur et la qualité de sa voix, sa mélodie unique et variée et ses rythmes infecteux font qu'il n'a jamais à demander deux fois. Cet auteur, compositeur, interprète né au Sénégal décrit sa musique comme " un ensemble de sons chaleureux bien rythmés pour danser, des sons qui vous donnent envie de bouger et de se sentir bien. C'est ce que je veux pour moi, ma famille et ma planète, " (Élage Diouf). On adhère à son souhait ! Vidéo.
Lauréat du prix Juno et interprète du spectacle Delirium du Cirque du Soleil.
Performer: Élage Diouf
Country: Sénégal / Québec
Genre: Music
Show length: 50 minutes
Ages: All Ages (Grades K-12)
Venue: Revue Stage (Venue 1)
A live music experience is much louder and very different than hearing recorded songs at home. While all ages are welcome, a loud concert, singalong or drumming may be frightening to some. Please use your own discretion when making your show selection.
Show Times
Monday, May 27, 2019
10:30 am — 11:20 am Revue Stage (en français)
12:30 pm — 1:20 pm Revue Stage (en français)
Tuesday, May 28, 2019
12:30 pm — 1:20 pm Revue Stage (en français)
Wednesday, May 29, 2019
10:30 am — 11:20 am Revue Stage (en français)
Thursday, May 30, 2019
10:30 am — 11:20 am Revue Stage (en français)
12:30 pm — 1:20 pm Revue Stage (en français)
Friday, May 31, 2019
10:30 am — 11:20 am Revue Stage
Saturday, June 1, 2019
3:00 pm — 3:50 pm Revue Stage
Tickets
School ticket price: $12.00 + GST
One Show Day Pass: $22.00 per adult; $12.50 per child + GST and s/c
4-Pack Family Pass: (4 tickets to 1 show) $58.00 + GST and s/c
More info on ticket pricing
Une de ces voix touchantes dont émanent une chaleur humaine et une sincérité évidente.

~ Ralph Boncy ICI Musique
Élage Diouf is a world music maven!

~ Tony Montague, Penguin Eggs