Dorky Dance Fitness (Workshop)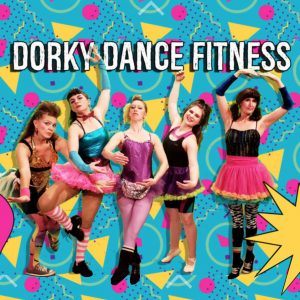 Here's the link to enjoy Dorky Dance Fitness anytime before the end of day on Sunday, June 7th!
Feel free to keep the Kids Festival spirit alive by sharing your creations, videos, and memories on social media by using the #KidsFestPopUp hashtag!
Feeling a little stir-crazy? It's time to get your sillies out! Grab your goofiest outfit and join dance fitness instructor Sadye Osterloh for an all-ages, all-abilities get-fit class that will have you laughing, crying (due to laughter), and sweating your pants off. Sweatbands and leg warmers are encouraged—but pajamas are cool too. You'll be laughing so hard you won't realize how strong you're getting! Dorky dancer Sadye has been teaching movement and circus arts to all ages for the past 15 years, and studied with top circus trainers at the Circus Center in San Francisco and with the world-renowned Eugene Baranok in Ft. Lauderdale, Florida. Her goal is to make working out fun and accessible for all ages and body types, so don't be shy—let's get dorky!
Performance Workshop Leader: Sadye Osterloh
Country: United States
Show length: 30 minutes, pre-recorded
Ages: All ages and abilities
Venue: Here's the link to the show!
Recommended supplies: Sweatbands, leg warmers, your goofiest outfit—or stay in your PJs!
Show Times
Tuesday, May 26, 2020
4:30 pm — 5:00 pm Facebook: www.facebook.com/KidsFest