Cris Derksen's Nerds Whirlwind Musical Tour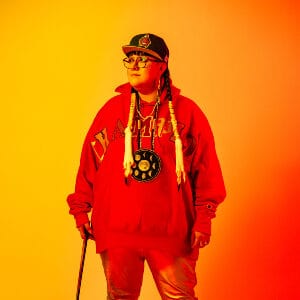 You had me at cello! Take a Nerd's Whirlwind Musical Tour with internationally respected Indigenous cellist, composer and big kid Cris Derksen where a "classical" instrument takes on a new life. She'll share with you how she creates her unique musical 'sound-print' that weaves her classical background and her ancestry together with electronics. Cris will introduce you to her cello, loop station and effects pedals as she creates and performs using the technology that surrounds her. Come join Cris for a fun and creative exploration of the magic of music. Watch a video about Cris below!
Performer: Cris Derksen
Country: Cree Nation, Northern Alberta, Canada
Genre: Music
Show length: 30 minutes
Ages: Ages 8 and up (Grades 3 and up)
Ways to Watch & Listen
Pre-recorded Online

Watch a pre-recorded online performance at home or in your classroom. Available until Sunday, June 13th at 8pm.
Show Times
Pre-recorded video
Available starting
Watch until
Pre-recorded video

tickets

Monday, May 31 at 10:00 am
8:00 pm on Sunday, June 13
Buy tickets
Ticket Information
Public 
Schools – Virtual Field Trip
LIVE Online – $60+GST & order fee per class
Pre-recorded Online – $60+GST & order fee per class

School Tickets are on sale NOW! All Virtual Field Trips include access to 6 online arts workshops!
Derksen creates undeniably modern music that mixes folk, classical, dance, and aboriginal structures and tunes with electronic beats […]

~ MusicWorks
If you follow your own heart and swim up your own salmon stream, some pretty cool things can happen.

~ Cris Derksen