Cocoon-Time Creature Creations (Workshop)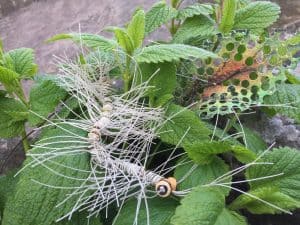 Here's the link to enjoy Cocoon-Time Creature Creations anytime before the end of day on Sunday, June 7th!
Feel free to keep the Kids Festival spirit alive by sharing your creations, videos, and memories on social media by using the #KidsFestPopUp hashtag!
Did you know that the caterpillar, much like every living thing on planet Earth, contains the possibility of the beautiful creature it will one day become? This possibility lives in the form of imaginal cells—the parts of the of a caterpillar that hold the information of the butterfly.  Tamara guides you through creating your own very magical caterpillar filled with your dreams of a future world—just as the caterpillar's future butterfly life is stored in its imaginal cells.
Performance Workshop Leader: Tamara Unroe
Country: BC/Canada
Show length: 45 minutes
Ages: 5 and up
Venue: Facebook
Recommended supplies: 
Scissors
Pen or ink and brush
Pliers
Wire cutters (or a pair of scissors will do)
Drawing materials such as crayons, pastels, paints, or coloured pencils
Paper (any kind)
A few leaves of various colours, the stronger the better
Hole punches (any size, but big is best)
A few spools of string or different coloured thread
An embroidery needle or two
Thin wire (old twist ties are perfect)
Two jars (with lids) filled with water, to be used as a vice
A few beads or buttons, or even dried berries (for eyes)
Show Times
Friday, May 29, 2020
4:00 pm — 4:45 pm Facebook: www.facebook.com/KidsFest