Circus Arts (Workshop)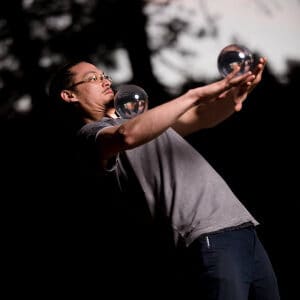 If you can't run away from home and join the circus, why not turn your home into one? Circus arts often require special equipment or space in order to get started, but in this workshop you can start learning right from home! Join multidisciplinary circus performer Chris Murdoch in a two-part juggling workshop, where you'll make your own juggling balls and then learn how to get one, two, and three objects dancing through the air. Plus, he'll even teach you some other tricks you can do with everyday objects. Chris has been teaching prop manipulation at CircusWest for eight years, and his 15 years on stage has seen him perform with fire, isolation hoop, dragonstaff, fans, juggling balls, clubs, acrobatics, a skirt, and even some bad magic.
Workshop Leader: Chris Murdoch
Country: BC/Canada
Workshop length: 45 minutes
Ages: All Ages (Grades K-12)
Recommended supplies:
6 balloons
3 tennis balls
Rice, birdseed or millet
Plastic wrap
Electrical tape
Scissors
Large sheet of paper (newsprint)
Ways to Watch & Listen
Live Online Plus

Watch a live performance at home PLUS access the recorded performance from 9 am the day after.

Pre-recorded Online

Watch a pre-recorded online performance at home. Available until Sunday, June 13th at 8pm. Closed Captioning available.
Show Times
Live online plus
Monday, May 31
Live online plus

tickets

9:30 – 10:15 am
Pre-recorded video
Available starting
Watch until
Pre-recorded video

tickets

Tuesday, June 1 at 9:00 am
8:00 pm on Sunday, June 13
Watch now
How to Watch
This Online Workshop is included with your Show Ticket. No registration is required. Once you purchase a Show ticket, further instructions will be sent in an email and the viewing link will be emailed the day before.
If you have purchased tickets and are ready to watch a workshop, please review our How to Watch page to optimize your viewing experience.