Charlotte Diamond and the Hug Bug Band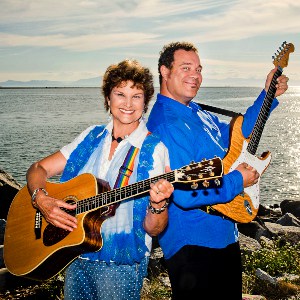 For over 30 years, this multi-award winning musician and Order of Canada recipient has inspired children to sing, dance, care for each other, and celebrate Canada's cultures.  One of BC's best-loved entertainers, Charlotte creates musical fun with her many catchy kids' classics including 'Four Hugs a Day", "I am a Pizza", "Octopus" (Slippery Fish), and "All the Nations Like Banana."
Her music, as well as being lively and singable, inspires children and helps them celebrate the diversity of our cultural mosaic with songs like "Leave the World a Little Better." Charlotte's music is fun for kids, but parents and grandparents will be captivated by her music as well. Watch a video below!

Performers: Charlotte Diamond, Matt Diamond, Lee Oliphant
Country: BC / Canada
Genre: Music
Show length: 50 minutes
Resources: Lesson Plans

Ages: Ages 1-7 (Babes in arms welcome), (Grades: Pre-2)
Venue: Revue Stage (Venue 1)
A live music experience is much louder and very different than hearing recorded songs at home. While all ages are welcome, a loud concert, singalong or drumming may be frightening to some. Please use your own discretion when making your show selection.
Show Times
Tuesday, May 26, 2020
10:30 am — 11:20 am Revue Stage
Wednesday, May 27, 2020
12:30 pm — 1:20 pm Revue Stage
Friday, May 29, 2020
10:30 am — 11:20 am Revue Stage
Saturday, May 30, 2020
10:30 am — 11:20 am Revue Stage
Sunday, May 31, 2020
11:00 am — 11:50 am Revue Stage
Tickets
School ticket price: $11.00 + GST
One Show Day Pass: $22.00 per adult; $12.50 per child + GST and s/c
4-Pack Family Pass: (4 tickets to 1 show) $58.00 + GST and s/c
More info on ticket pricing


Public Tickets on Sale now 

Family performer, Charlotte Diamond, takes young listeners around the globe and into their own imaginations. ~The San Diego Union Tribune