Catch a Groove with Her Tribal Roots (Workshop)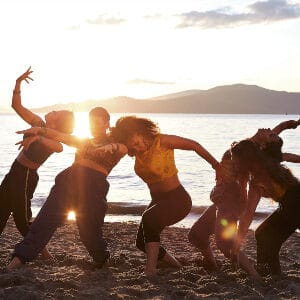 Get ready to move, shake and let loose! Learn to dance like nobody's watching as Her Tribal Roots helps you find your own groove through the influences of Hip Hop, Dancehall, and Afrobeats! Kids will explore how to access their self-expression in this open level class where all are welcome. Whether this is your first or millionth time dancing, this class is the perfect opportunity to let go, move to the rhythms and connect to your body. Her Tribal Roots is a collective of emotive and compassionate interdisciplinary artists. Through dance, expression, and radical kindness, Her Tribal Roots strives to pay respect to the cultures and people who have influenced their artistic journeys and to foster connection between communities and with the natural world.
Country: BC/Canada
Genre: Dance
Workshop length: 45 minutes
Ages: All Ages (Grades K-12)
Ways to Watch & Listen
Live Online

Watch a live performance at home or in your classroom and access the recorded performance from 9 am the day after.

Pre-recorded Online

Watch a pre-recorded online performance at home or in your classroom. Available until Sunday, June 13th at 8pm.
Show Times
Live online
Tuesday, June 1
Live online

tickets

1:30 – 2:15 pm
Pre-recorded video
Available starting
Watch until
Pre-recorded video

tickets

Wednesday, June 2 at 9:00 am
8:00 pm on Sunday, June 13
How to Watch
This Online Workshop is included with your Show Ticket. No registration is required. Once you purchase a Show Ticket, further instructions will be sent in early May and the viewing link will be emailed 24 hours (or the day) before the live online workshop series begins.