Audioplay: The Turners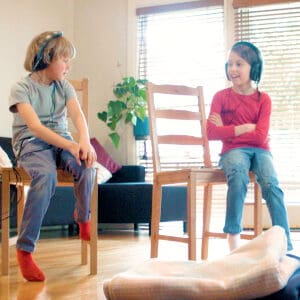 Being a Turner is hectic, one minute you're hanging with your sister, the next you've been taken hostage by half-snake, half-human creatures. Leo and Abbie aren't ordinary kids, they're Turners, a secret species that morphs from human to animal and now they've found themselves at the centre of a global plot to annihilate their kind… Things are getting wild! Step into the center of an immersive audio experience based on Mick Elliott's book series. Using a smart phone and headphones, two players physically act out the story together, each guided by their character's rich audio score and unique instructions. Audioplay: The Turners is technology without the screens. It's an action-packed adventure that takes the imaginative, physical play that kids love and brings it to the next level by adding sound effects and cinematic score. Watch a video below.
Producing Company: Audioplay 
Country: Australia
Genre: Audio drama
Show length: 60 minutes (4 x 15 Min episodes)
Ages: Ages 6-12
Players: 2 Players at a time
Required supplies: Players will need one mobile devise (Android or iOS), download the AudioPlay App and a pair of headphones for each player. Additional household items are sourced by the player to support play (chairs, blankets etc.). These requirements are specific to each episode.
Ways to Watch & Listen
Pre-recorded Audio

Listen to a pre-recorded online audio drama performance at home or in your classroom. Available until Sunday, June 13th at 8pm.
Show Times
Pre-recorded audio
Available starting
Listen until
Pre-recorded audio

tickets

Thursday, June 3 at 12:00 pm
8:00 pm on Sunday, June 13
Buy tickets
Ticket Information
Public 
Schools – Virtual Field Trip
LIVE Online – $60+GST & order fee per class
Pre-recorded Online – $60+GST & order fee per class

School Tickets are on sale NOW! All Virtual Field Trips include access to 6 online arts workshops!
I didn't like it….I LOVED it!

~ Indi, age 9
I REALLY love this app, I think it's got so much merit. I think it's great because the kids are experiencing something, they're being physical, they're solving problems, they're building stuff, they're creating…It's not that idea of sitting on a device and flick through and stare at a video. It's super interactive.

~ Nat Amoore, One More Page Podcast