Audioplay: The Turners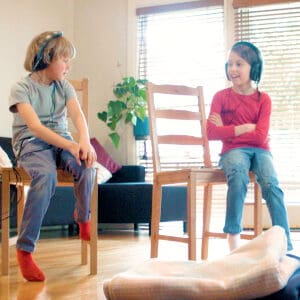 Using a smart phone and headphones, two players physically act out the story together, each guided by their character's rich audio score and unique instructions. Audioplay: The Turners is technology without the screens. It's an action-packed adventure that takes the imaginative, physical play that kids love and brings it to the next level by adding sound effects and cinematic score.
Being a Turner is hectic, one minute you're hanging with your sister, the next you've been taken hostage by half-snake, half-human creatures. Leo and Abbie aren't ordinary kids, they're Turners, a secret species that morphs from human to animal and now they've found themselves at the centre of a global plot to annihilate their kind… Things are getting wild! Step into the center of an immersive audio experience based on Mick Elliott's book series.  Watch a video below.
Producing Company: Audioplay 
Country: Australia
Genre: Audio drama
Show length: 60 minutes (4 x 15 Min episodes)
Ages: Ages 6-12
Players: 2 Players at a time (only 1 ticket purchase required for 2 players)
Required supplies: Players will need one mobile devise (Android or iOS), download the AudioPlay App and a pair of headphones for each player. Additional household items are sourced by the player to support play (chairs, blankets etc.).
Please note, one ticket gives access to two players
Ways to Watch & Listen
Pre-recorded Audio

Listen to a pre-recorded online audio drama performance at home. Available until Sunday, June 13th at 8pm.
Show Times
Pre-recorded audio
Available starting
Listen until
Pre-recorded audio

tickets

Thursday, June 3 at 12:00 pm
8:00 pm on Sunday, June 13
Buy tickets
Ticket Information
Public 
I didn't like it….I LOVED it!

~ Indi, age 9
I REALLY love this app, I think it's got so much merit. I think it's great because the kids are experiencing something, they're being physical, they're solving problems, they're building stuff, they're creating…It's not that idea of sitting on a device and flick through and stare at a video. It's super interactive.

~ Nat Amoore, One More Page Podcast