A Piece of You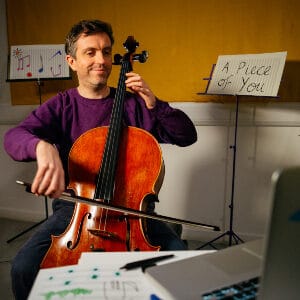 We all have a story to tell, what's yours? Imagine telling your story and then having it turned into a song! A Piece of You is a live intimate and interactive performance for children and their families; a private concert for just your household. Using the video conferencing tool Zoom, award-winning performance artist, cellist and composer Greg Sinclair will get to know you and your family. Like a musical portrait, Greg will transform your thoughts and feelings into your very own music score using colourful and expressive graphic notation. He then plays your music on his cello, in this unique performance all about you.
Performer: Greg Sinclair
Country: Scotland
Genre: Music/Theatre
Show length: 30 minutes
Ages: Ages 7 and up
Audience: Your household (Max of 3 people)
Requirements: This performance requires Zoom
Ways to Watch & Listen
Live Online

Watch a live performance at home or in your classroom and access the recorded performance from 9 am the day after.
Show Times
Live online
Ticket Information
Public 
Schools – Virtual Field Trip
LIVE Online – $60+GST & order fee per class
Pre-recorded Online – $60+GST & order fee per class

School Tickets are on sale NOW! All Virtual Field Trips include access to 6 online arts workshops!
A unique and very personal voyage of discovery … a thoroughly fascinating experience.

~ Thom Dibdin (All Edinburgh Theatre)
Just witnessed the most beautiful 1:1 performance with Greg Sinclair's A Piece of You. He took so much time and care to listen. My son said, loved the rhythm tone speed sound! To have somebody write and perform a piece of music just for me made my day so special.

~ @TechTheatreAbby on Twitter